Killary Fjord Shellfish:


A Family Farm with a Twist

Gazing out at Killary Harbour, two thoughts immediately spring to mind. "Wow, this is gorgeous" is usually the first one, followed closely by, "What the hell are all those things in the water?"

Fair thoughts, both. While the view provides a veritable feast for the eyes, as it turns out, "those things in the water" provide a good ol' fashioned feast. Those buoyed lines belong to Simon and Kate Kennedy, owners of Killary Fjord Shellfish, Connemara's premier purveyors of sweet Killary mussels. We caught up with Kate, who explained how mussels get from the fjord to your plate, where they get their distinct flavour, and their secret for making "Irish style" paella.
---
Q&A with Kate Kennedy, Killary Fjord Shellfish
The Slow Road: Take us through the muscle-farming process. How do mussels get from the fjord to our plates?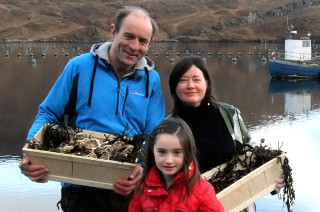 Kate Kennedy: On the Killary we produce rope-grown mussels. The three things you need to grow mussels are water with a food supply (i.e. plankton), spat (mussel larvae) and a structure to which the mussel will attach itself and grow, like a long line with droppers.
Long lines, the production method used to grow mussels, are the main structures visible on the Fjord. They're made from two lengths of rope that are kept afloat in the water by barrels. Between the barrels, drop ropes are suspended to collect spat, where the mussels can grow. The lines are anchored in place by heavy blocks at each end.
What's the best time to catch mussels? Is there a time of year that yields the biggest catch?
In early spring the mussel farmers in Killary begin checking the water column for the presence of spats, the mussel larvae. Once larvae is detected, usually in May to June, farmers deploy spat collectors, the lengths of rope that are coiled and hung from the long lines. The larvae in the water attach to these collectors. Once the spat has anchored itself to the collector rope, the farmer has a seed settlement.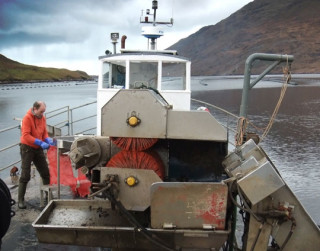 This seed is then repacked in the next year and eventually after a life cycle of 18 months to two years, the mature mussel is harvested. When we sell to France, it's usually in December. This is intensive harvesting, with large tonnage going live to France.
If we are selling to local markets we harvest two or three times weekly and it is smaller quantities which we grade, depurate, clean and de-beard, then pack in five- or 10-kilogram bags for hotel and restaurant use.
What gives Killary mussels that distinct, sweet flavour they're known for?
The key influence in the distinct sweet flavour of Killary mussels has to be the pure water of Killary Harbour. This mix of saline Atlantic water with fresh river water from Ashleigh Falls and the Bundorragha river gives Killary mussels that distinctive flavour.
What are your favourite ways to prepare mussels?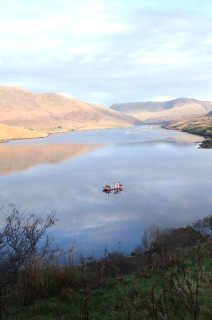 There are so many wonderful ways to cook and prepare mussels, all quick, easy and most definitely healthy. Depending on who's at the table and who's in the kitchen, these are some of our favourites. Kate loves tomatoes and usually if she is cooking she'll make a dish with a tomato base, such as mussel and clam stew with almonds and saffron. Simon loves simple steamed mussels like moules marnier (might be because it's easy to prepare and he does not have to do too much chopping!). Another favourite of Simon's is mussel and noodle soup. We all love paella with lots of mussels and clams, and we have our own variation of paella that includes bacon and cabbage: paella, Irish style!!
In North America when you say "Irish food," we tend to think of fish and chips—if anything. But what would you say are Ireland's culinary hallmarks?
Well when I think of Irish food the first thing that comes to mind is lamb. Especially living here in Connemara, we are privileged to have some of the best lamb in the country, if not the world. (I'm biased!) Lamb would constitute a huge part of our diet, along with mussels and locally caught mackerel. Although in general in Ireland we are not known to be great fish eaters (traditionally fish was always eaten on Friday), we are now eating much more fish as a nation.
JOIN MORE THAN 70,000 FELLOW WANDERERS