10 of the Best Hiking Routes in Greece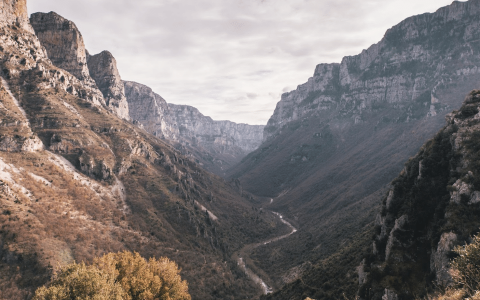 Swathed in UNESCO World Heritage Sites, sun-kissed ruins and jaw-dropping natural landscapes, the hiking in Greece offers incredible variety and equally stunning views.
From the mystical religious sects of Meteora to the imposing trails around Mount Olympus, Greece is home to spectacular hikes for all activity levels. And when you're not wandering around sleepy fishing villages and ancient olive groves, there's plenty of opportunities to pause along the way, mingle with the locals in tavernas and revel in Aegean Island culture. Below, we've rounded up some of the most remarkable hiking trails in Greece to inspire your next journey.
---
1. Monastery Hike, Meteora
This hike starts at one of the first massive pillars of  Meteora, Doupiani rock. On the steep side of Doupiani, you'll find an ancient monastery built by the first hermits and monks who originally arrived to the area. Now mostly destroyed, it's still an amazing example of the structures created here more than 15 centuries ago. As the hike continues, you'll enter an oak forest with lush vegetation until reaching the monastery of Ipapanti, which was uniquely constructed and built in the cove of a steep rock. The hike continues ascending slowly until reaching the highest point, with great views of the Mega, Meteoro or Varlaam monasteries. You'll then head downhill through an ancient trail still paved today with original stones, where you can walk under the shadows of these massive rocks for the last bit of this marvellous hike.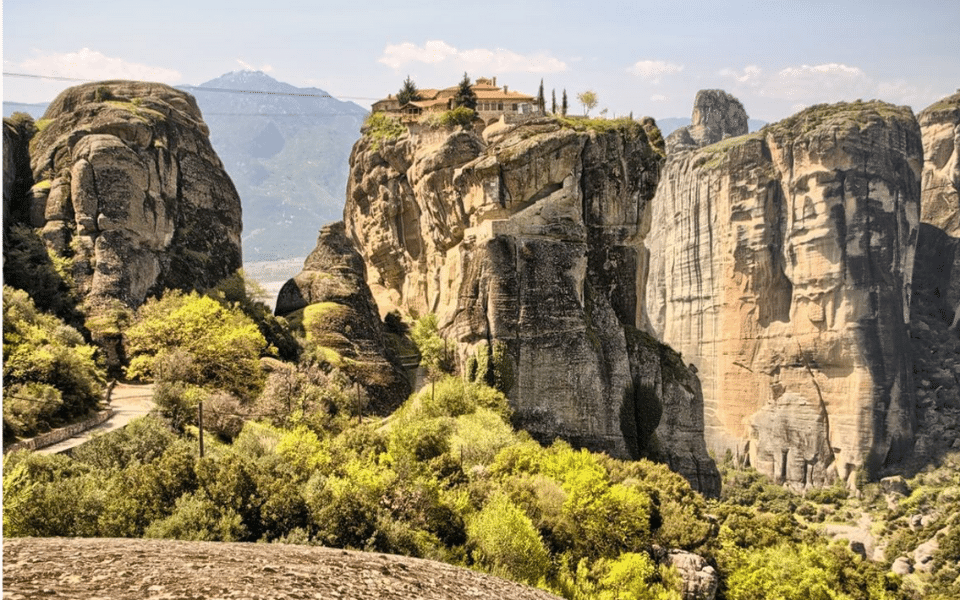 Insider tip: At the end of the hike, Kastraki village is the perfect stop for lunch and refreshments overlooking these massive pillars.
Activity Level: Occasional (Level 1)
Length of route: 6 km (3.76 mi.)
Best time of year to hike: year-round
Route map for Meteora Walking Route by Iord Smir on plotaroute.com
2. Vradeto to Kapesovo Hike, Zagori
The famous Vradeto stairs connect Vrageto Village to Kapesovo and used to be the only connecting path for the two villages until the 70s. These stairs are a sample of traditional stone building art and are so well built, it's difficult to separate the stairs from the surrounding mountain cliff!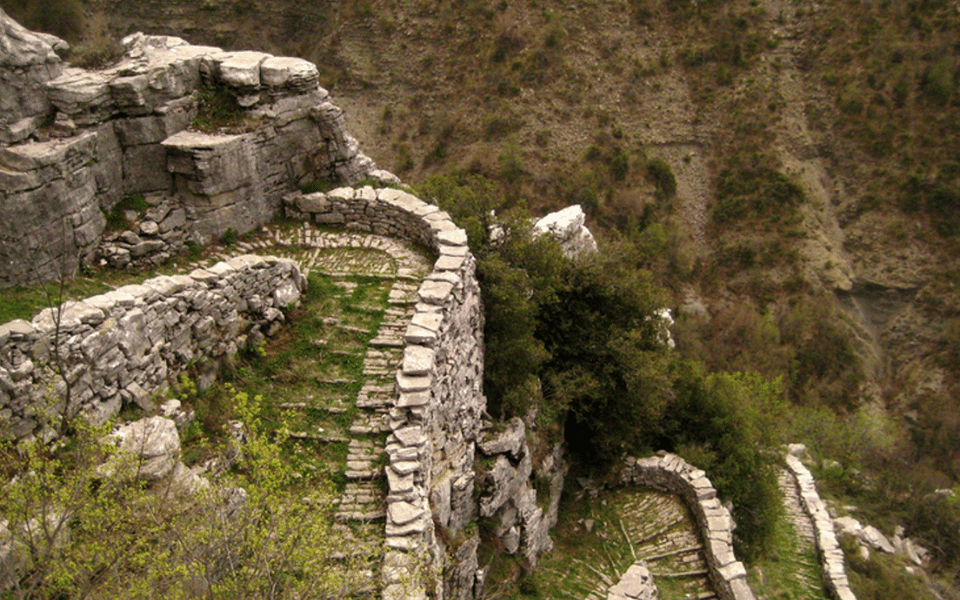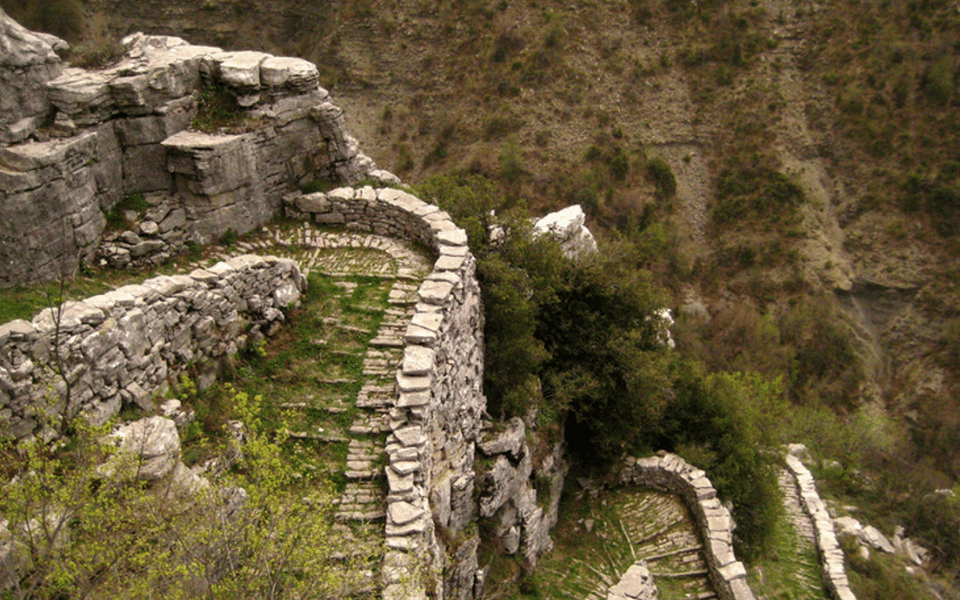 Insider tip: After stopping off for refreshments in Vradeto, this hike can continue to one of the best panoramic spots, the famous Mpeloi viewpoint.
Activity level: Enthusiast (Level 3)
Length of route: 7.9 km (4.92 mi.)
Best time of year to hike: Late Spring to October
Route map for Kapesovo To Beloi by Iord Smir on plotaroute.com
3. The Old Four Stone Bridge's Hike, Zagori
This hike starts in the main square of Koukouli Village, under an old tree near a unique veranda café called the Vikogiatros-Vicarian. Vicarians were renowned practitioners from the 17th-18th c. and gathered their herbs in the ravine of Vikos Gorge and the surrounding area. They travelled throughout Greece and the Balkans to satisfy people's desire for good health. Vikogiatros-Vicarian is the best place to sip an authentic Greek coffee before descending the old path towards the 16th c. Lazaridis Bridge.
The path continues on the main road for 300 m and after passing Kipi village (another great place for a stop), you'll pass Miloi Bridge, the first three-stringer stone bridge in the area. Next, you'll pass another famous three-stringer stone bridge called Plakidas. For years, this bridge served the residents of the two villages in their transportation and rural activities. It stands out for its unique architecture, as it is one of the few three-stringer bridges that exist. It's no wonder that it is one of the most photographed bridges in Zagori! Nearing the end of the hike, you'll pass one of the most beautiful stone bridges, Kokkoris Bridge, the perfect spot for some impressive photos.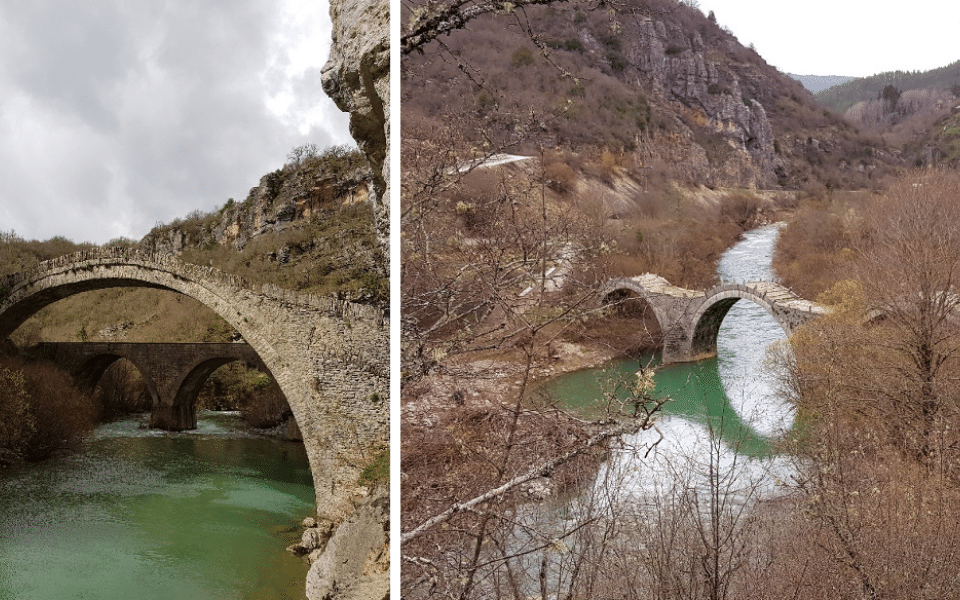 Insider tip: Next to the bridge of Miloi lies the remains of an old traditional flour mill that you can still visit to understand its procedure and the power of water.
Activity level: Recreational (Level 2)
Length of route: 5.9 km (3.7 mi.)
Best time of year to hike: Early spring to late October
Route map for Koukouli To Kokoris by Iord Smir on plotaroute.com
4. Agios Konstantinos Village to Sarakiniko Beach Hike, Milos
Due to its volcanic origin, Milos presents impressive coastal morphology and diversity. You'll traverse past sandy beaches, pebbly bays, as well as white, red, yellow and black rocks. On this hike, you'll explore the island starting from Agios Konstantinos. This name originally referred only to the church above the beach. And the name was then applied to the little settlement consisting of traditional boathouses that are lined up in a narrow, sheltered bay east of Alogomandra.
From Agios Konstantinos, the path follows the eye-catching north coastline, towards Sarakiniko, an inlet of pure white stone sculpted by volcanic eruptions. This beautiful, out-of-this-world spot is one of the island's many geological wonders.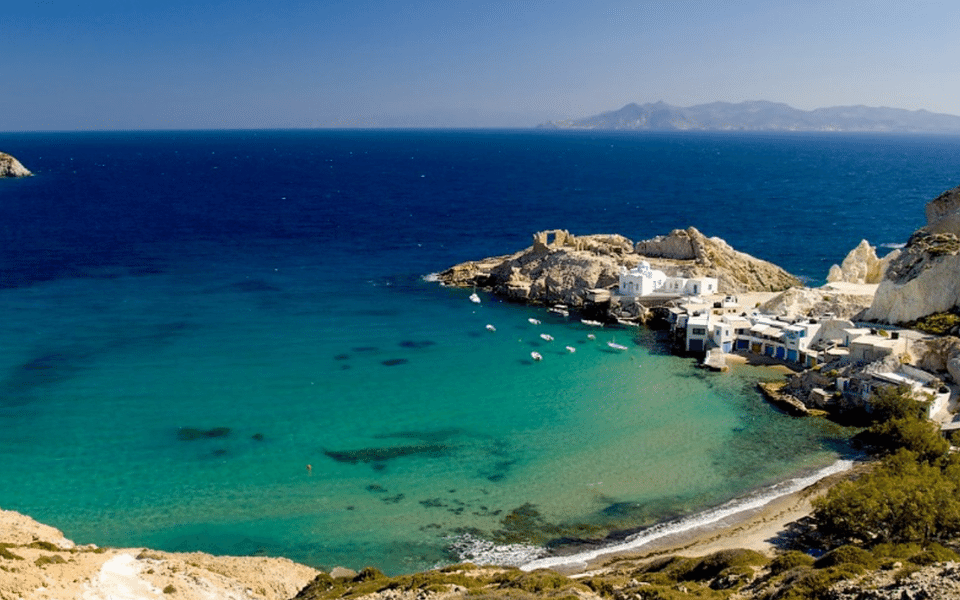 Insider tip: Near Sarakiniko, you can go snorkelling and visit a shipwreck!
Activity level: Occasional (Level 1)
Length of route: 4.6 km (2.9 mi.)
Best time of year to hike: Not suitable during hot summer days
Route map for Milos by Iord Smir on plotaroute.com
5. Samaria Gorge Hike, Crete
Samaria Gorge is one of the most famous national forests in Greece due to its natural beauty. With 16 km in length, it's considered to be one of the largest in Europe and attracts thousands of tourists every year. Starting the trip from Omalos mountain, you'll have the opportunity to admire this unique natural reserve. Keep your eyes peeled for a rare and protected Cretan goat species called "kri kri," they love to roam the area. The trekking will last approximately six hours (12-13 round-trip) and requires strong fitness levels. And don't forget to pack your swimsuit! At the end of the walk, you can enjoy a refreshing swim in the clear blue waters of Agia Roumeli beach.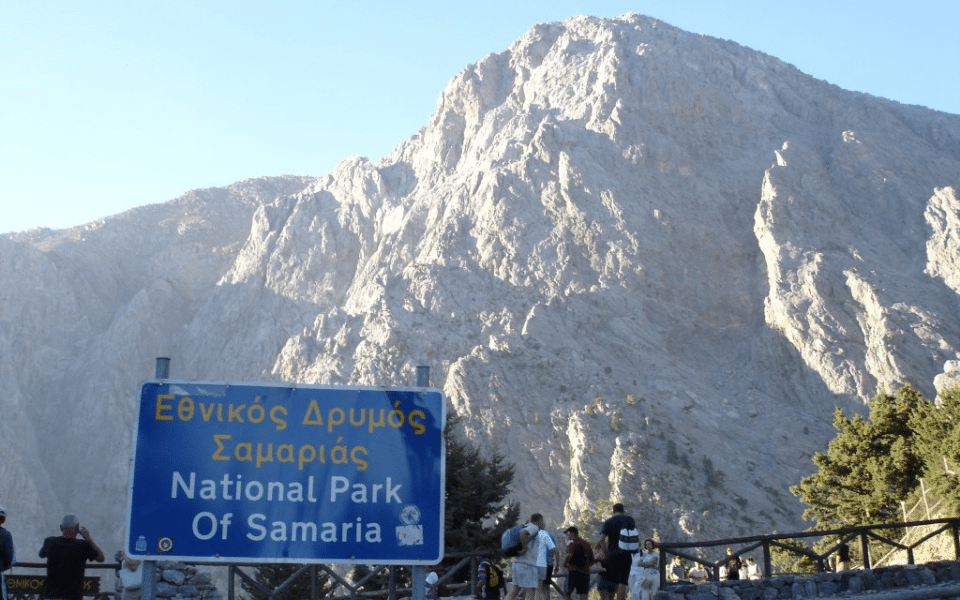 Insider tip: Solid trekking shoes are a must to enjoy this hike.
Activity level: Avid (Level 4) This walk is long and strenuous and is suitable for guests that are fit and have some experience in walking long distances.
Length of route: 14.1 km (8.78 mi.)
Best time to hike: May-October, when Samaria Gorge National Park is open to the public.
Route map for Samaria by Iord Smir on plotaroute.com
6. Chania South Coast to the Imbros Gorge Hike, Crete
Shorter, less strenuous but equally beautiful as the renowned Samaria Gorge, Imbros is the perfect gorge for those seeking an easy hike. It's 8 km long, not steep or particularly difficult, and crosses a changing scenery from its green start by the fertile Askyfou plain to its rocky end near the dry south coast. This hike is suitable for those with no hiking experience and makes a great option for families.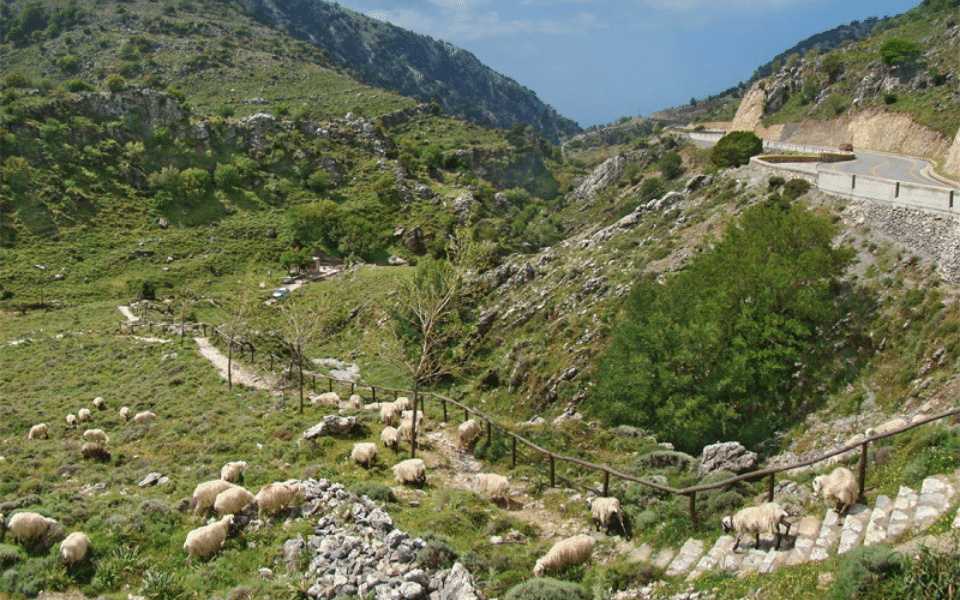 Insider tip: A nearby cafeteria at the beginning of this hike serves refreshments from May to October. At the end of this hike, you can admire views of the Libyan Sea.
Activity level: Occasional (Level 1)
Route length: 6.3 km (3.4 mi.)
Best time to hike: The gorge is open all year-round and is especially popular in springtime (April) when flowers are in full bloom. Bear in mind that April is also the busiest time of the year for Imbros, so you could be sharing your walk with a number of coach loads of tourists. If you want to avoid this, start late (around noon).
Route map for Imbros Gorge by Iord Smir on plotaroute.com
7. Chania South Coast to the Aradena Gorge Hike, Crete
This hike starts from the deserted village of Aradena, which is a two-hour drive from Chania. Since 1947, no one has lived in the village of Aradena after two local boys had a fight over a goat bell, which ultimately resulted in a vendetta and the death of nearly all residents. From there, you'll start trekking at the Aradena gorge leading to the Libyan Sea. At the gorge's exit, you'll find yourself on the shores of a beautiful, secluded cove called Marmara Beach.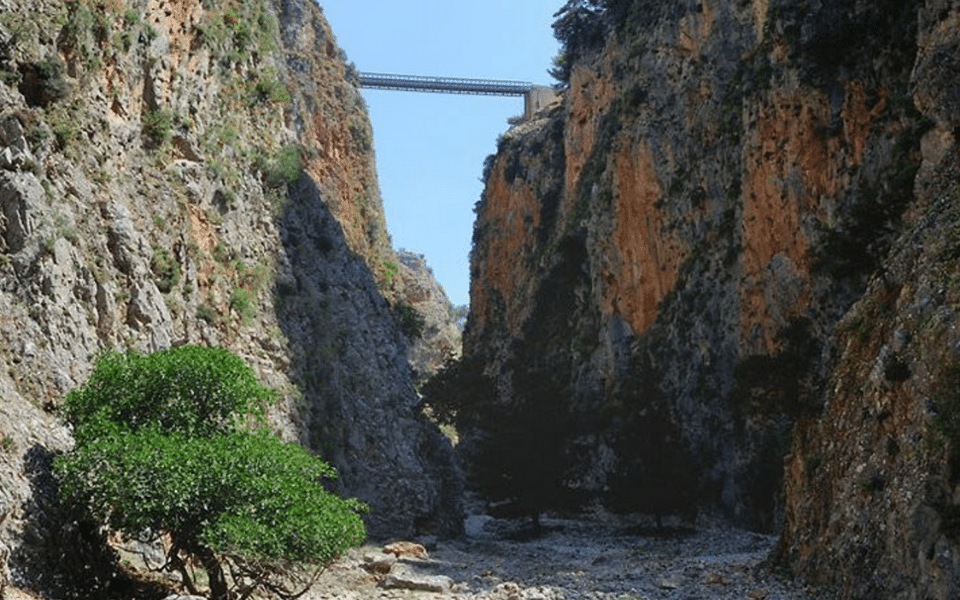 Insider tip: Pack your swimsuits! Marmara Beach's crystal-clear waters makes for the perfect reward after those long hours of hiking.
Activity level: Expert (Level 5)
Route length: 2.7 miles
Best time to hike: Not suitable during hot summer days or days with heavy rains.
Route map for Aradaina -Marmara by Iord Smir on plotaroute.com
8. Mount Olympus Hike, Olympus Range
Mount Olympus is the highest mountain in Greece and the second highest mountain in the Balkans. Its charming terrain contains a mix of sheer rocky peaks, deep gorges, alpine fields and thick forest—all combining to create the rare magic of the mountain.
Start the hike at Prionia Place, the last point in which someone can reach the area by car and the entry point to the National Park of Greece. After a relaxing stop next to Enipeas Gorge, this hike follows the Enipeas river all the way to the town of Litochoro. For around four hours, you'll traverse past numerous wooden bridges, ascents and descents into beautiful forests and a gorgeous mix of terrain all around the base of Mount Olympus.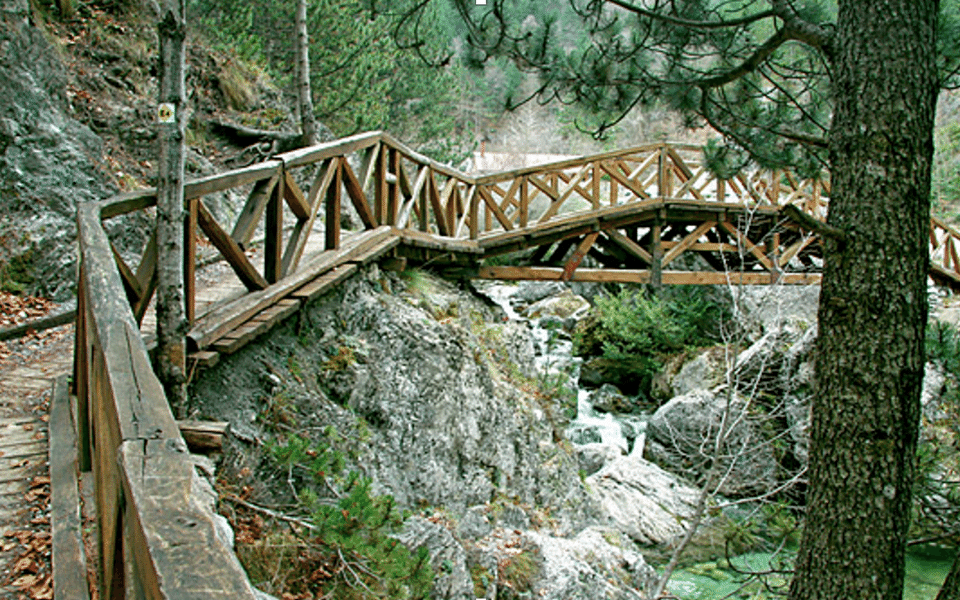 Insider tip: Mount Olympus is ideal for longer hikes, reaching the highest peak-Mytikas. Overnight on a refuge is the only option.
Activity level: Avid (Level 4)
Route length: 10.7 km (6.7 mi.)
Best time to hike: April-November
Route map for Olympos by Iord Smir on plotaroute.com
9. Arcadia Hike, Peloponnese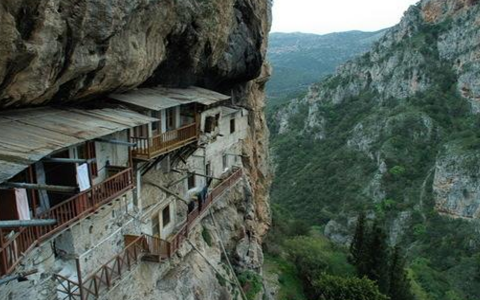 Located within the centre of the Peloponnese, the region of Arcadia is home to many large mountains (Mainalo, Parnonas, Aroania etc.) and is washed by the Argolikos bay and the Myrtoan Sea.
On this hike, you'll traverse past dramatic landscapes, ancient ruins, hidden ravines and idyllic scenery of the Greek countryside for around 1 hour and 30 minutes. Starting from a panoramic spot overlooking the Lousios River Gorge, you'll hike for 15-minutes to reach the old Timiou Prodromos Monastery, which is built on a huge vertical rock overlooking the Gorge. This monastery played an important role during the Greek revolution against the Turkish in the 18th c. as it served as a medical station for injured Greek fighters. After savouring the sheer peace and tranquillity of the area around the monastery, you'll continue the hike along the lush Lousios River Gorge, through forests, orchards and olive groves, and past soaring limestone cliffs and canyons.
Insider tip: Keep your eyes peeled for a small panoramic spot near the parking lot of the monastery. This hidden spot boasts the best view of Lousios Gorge, Philosofou Monastery and numerous hidden hermitages built on the inaccessible side of the gorge. The monastery is closed to the public from 1:00-5:00 PM. There's also a dress code to enter—women should wear long skirts and men long pants.
Activity level: Occasional (Level 1)
Route length: 2.4 km (1.54 mi.)
Best time to hike: Year-round
Route map for Lousios by Iord Smir on plotaroute.com
10. Viros Gorge Hike, Kardamili (Near Taygetos)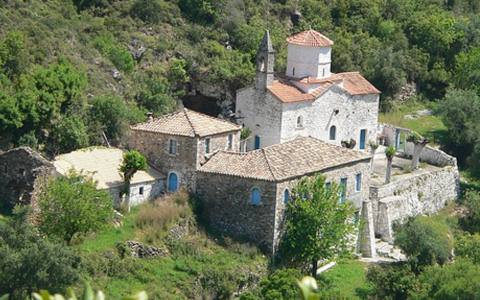 Located just outside the medieval town of Kardamili, the 20 km-long Viros Gorge is surrounded by many different signed routes, all of which pass by scenic villages with Byzantine chapels and beautiful stone buildings.
The route starts at old Kardamili after heading inside the gorge. After almost an hour, you'll see a white and red sign that leads to Likaki monastery. Continuing towards the gorge's bed, you'll reach Sotiros monastery, located on the right side of the gorge. Next, continue hiking to the village of Agia Sofia for amazing ocean views. After savouring some stunning scenery, you'll follow an ancient trail to Kardamili that was originally used to connect Kardamili with the town of Sparta, which is located on the other side of the mountain.
Insider tip: Take the longest hiking option with a climb on the pyramid-shaped peak of Mount Taygetos, Profitis Ilias for amazing views of the ocean and spectacular sunsets.
Activity level: Recreational (Level 2)
Route length: 8.6 km (5.4 miles)
Best time to hike: When the weather is good as the hike takes place mostly inside Viros gorge.
Route map for Kardamili by Iord Smir on plotaroute.com
Feeling inspired to lace up your hiking shoes in Greece? Get in touch with Tom Abraham to see how he can start planning your perfect Greek escape.
JOIN MORE THAN 70,000 FELLOW WANDERERS