Finding George, An Epicurean Man in Sikinos
Sakis Mitsoulis has been guiding B&R travellers through Greece for over 15 years. Below is the story of how he stumbled upon George, the former mayor of the pristine island of Sikinos turned winemaker, host extraordinaire and dear friend. 
---
Greece's reputation revolves around its mystical islands. Names like Santorini and Oia have become synonymous with blazing sunsets over blindingly sugar-cubed homes with blue rooftops that match the colour of the sea.
As a Greek-Canadian, while these images still manage to take my breath away, they're not the true embodiment of Greece. Rather their little cousins—the islands with less glitz and glory but ripe with tradition and the kind of slow living that nowadays seems to feel increasingly out of reach—are where I choose to pound the pavement when I'm looking for the next great experience for our travellers.
That's what drew me to Sikinos, a secluded island located between Folegandros and Ios in the middle of the Aegean Sea.
My journey to this island began early one summer morning from the port of Piraeus. After crossing several islands, it was midday by the time I arrived at Sikinos, also commonly referred to as the "wine" island (the word "Oinos" in Ancient Greek means wine).
As I walked off the quivering boat, I felt the solid earth under my feet and carefully navigated the water paddles on the dock to the shop where my rental scooter was waiting for me. I whisked off onto the only road that cuts through the island in hopes of finding a retreat for the night.
Venture off-course in Greece
Skip overcrowded islands in favour of more intimate ports of call in the Cyclades. Under the guidance of our local friends—like George—you'll never be lead astray. Discover Sikinos and much more on our Greek Islands active adventure.
DETAILED ITINERARY
The Secluded Charm of Sikinos
As I passed by the long golden sands of the beach, the crystal-clear water tempted me for a swim, but I was on a mission to find a place for the night where I could catch the famous Sikinian sunset from the top of the island's hillside cliffs.
On most of the Greek Islands, the main town, known as the Chora, is hidden away on the top of a hill. This was so that it was harder for pirates to siege. The road zig-zagged through yellow, barren landscapes towards hilltop villages. I could smell the island's wild herbs while riding uphill through the moon-like landscape. Eventually, I arrived at the main town, parked my scooter and started walking toward the centre.
As I climbed the fortress's steps, I quickly took note of how few people were around. While I felt a bit lost (and out of breath from climbing all those stairs), I started to absorb the magic of Sikinos. There was a sense of tranquillity that felt unique compared to other islands in the Cyclades. It was quickly confirmed to me that introducing this island to our travellers was the right choice.
I finally stumbled upon a small hotel where the woman at the front desk confirmed she had a room available for me. I quickly checked in and hit the road to explore more of the charming town before sunset.
I hopped back on my scooter and came across The Manalis Winery about two kilometres away from the Chora. The land on Sikinos is quite dry, so I was surprised to see countless vineyards and stone terraces draping the cliffsides. Naturally, my curiosity (and love of a good Assyrtiko) probed me to check it out.
I descended some steps to find myself in a room surrounded by wine barrels. The place appeared to be closed to the public, but I was so eager to find out more that I kept wandering deeper inside.
Suddenly, I heard a rattling noise coming from the lower level of the house.
A silver-haired man appeared from a crevice below the floor. It was Mr. Manalis—aka George—who quickly introduced himself while passing me a bottle of wine and asking me to hold it while he dusted off his pants.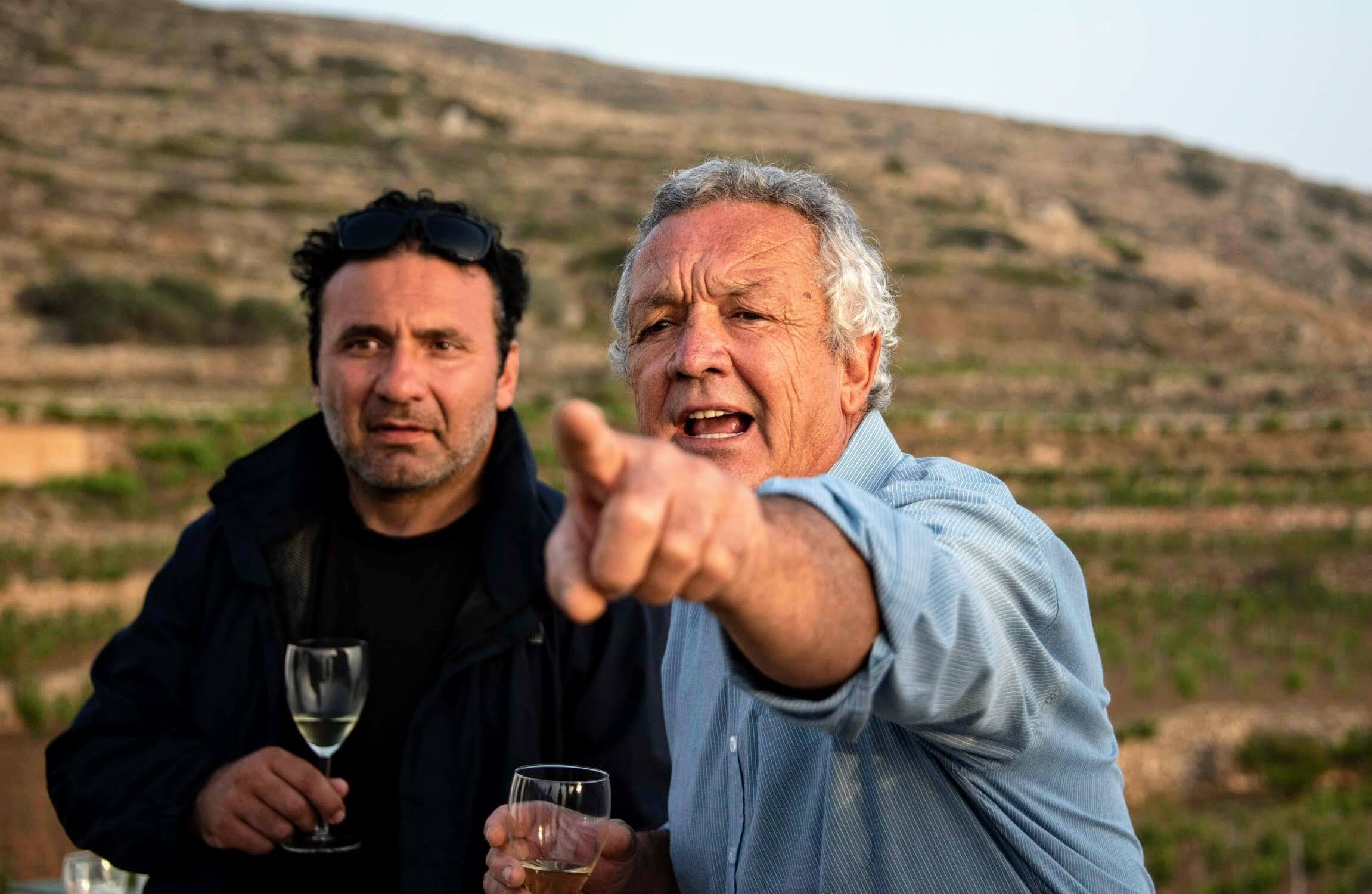 Sipping Into Sunset
"Let's try it," he said to me as he reached for a wine opener and two of the biggest wine glasses I have ever seen. I was kind of taken aback by the way he interacted with me—such an immediate warmth with a stranger, I thought.
While George attempted to open the bottle, he asked me if I am from Athens. I responded that I am of Greek descent but from Canada. He smirked and mentioned that he has some relatives in Montreal.
As he poured the wine into their enormous glasses, I was fascinated by the way he marvelled at the fluids as they hit the base of the crystal.
"So! Greek Canadian!" he exclaimed as he gestured a glass towards me.
As we sipped our wine, George began to share his past with me. He has been making wine for the last 20 years in Sikinos. Before that, he was a fisherman, and during the 1990s, he worked in construction. It was then when he was introduced to the property that is now his winery. He decided to renovate the place and make it into an ecological building where he would produce and resurrect ancient Sikinian wine varieties. During his period of self-discovery, George was also the mayor of the island up until 2006.
"But enough about me. This wine needs some sunset."
George then opened the double wooden doors of his cellar to a wide veranda, presenting the most astonishing views of the fiery sunset cascading over the sea.
The sky seemed to turn the colour of wine. The sun glowed orange like a skin-contact white and the clouds were painted a rosé pink. The blustering wind made me feel like the winery was about to take off and soar at any moment. I imagined that we are about to embark on a journey above the sea, perhaps even above the sun.
George wanted to introduce me to his son Lucas, so we headed to the lower balcony where Lucas runs a small restaurant. They invited me to stay for dinner, insisting that I try their wood-oven baked fava beans—an island specialty.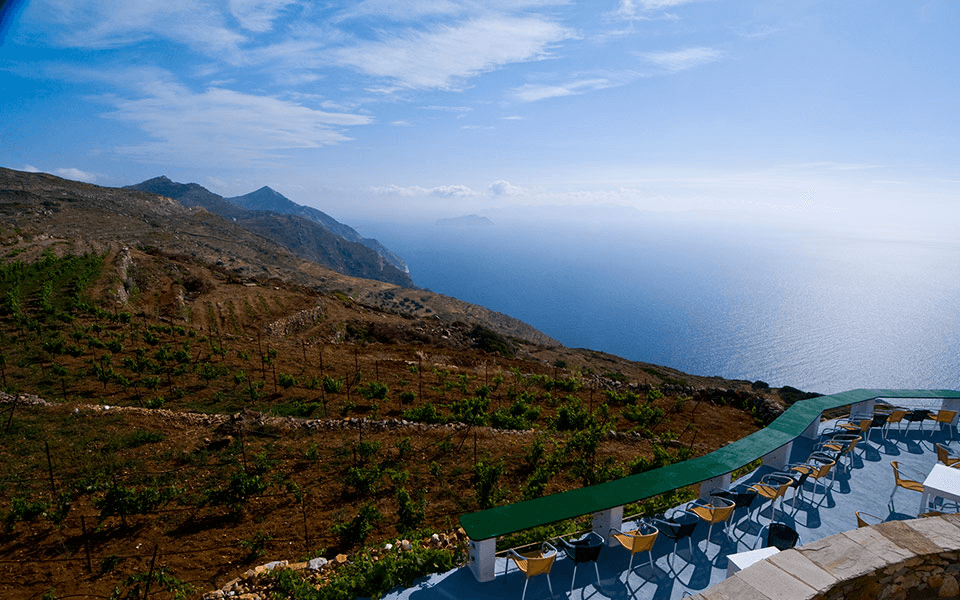 Unlocking the Secrets of Sikinos
The wine kept flowing throughout the night while George recited stories about the Epicurean way of living. George's Sikinos is an island that teaches you the art of reflection and invites you to be part of its community if you want to unlock its secrets.
Sikinos was very generous, and the island opened up to me like a rose. George has since become a good friend of mine and we've met several times since that day.
George knows something that we don't. It's this mystery that makes you want to spend more time with him on his magnificent island. He believes that spending more time at his vineyards will enhance our view of life, and it's this sense of slow living that aligns so well with the B&R philosophy on travel.
Over the years, B&R has been the bridge between George and some of our own friends who are absorbed in the search for adventure! Travelling in style, a yacht trip to Greece will bring you closer to this unparalleled experience. That's where you will find George Manalis and his stories of making great wine and living life—the Epicurean way.
Sikinos is a paradise full of secrets just waiting to be unlocked. Now that you have a true taste of the Epicurean way of life, click here to discover the region's secrets for yourself. And if you're interested in skipping the overcrowded islands in favour of more intimate ports of call, get in touch with a member of our team to start planning your Sikinos escape.
JOIN MORE THAN 70,000 FELLOW WANDERERS