Q&A with Luke Bailes, Founder & Executive Chairman, Singita
In 1925 Luke Bailes's father bought a tract of land in South Africa in what would eventually become the Sabi Sand Game Reserve. Sixty-eight years later, in 1993, Luke opened Singita Ebony, a single luxury property to further support the family's vision as custodians of Africa's wild spaces. Today, 15 award-winning properties are spread over four countries incorporating evocative design, sustainability best-practices and a long-term conservation plan.
Since our earliest days of trip planning in Africa, we've been pairing Singita lodges with our small group and customized journeys to great success. Singita's over-riding philosophy—a sensitivity to the land and its inhabitants—dovetails beautifully with our own way of moving through the world, with deep interest, appreciation and style.
We recently caught up with Luke to get his thoughts on conservation and the creation of Singita Kwitonda Lodge, the newest property in Rwanda.
Q&A with Luke Bailes
Founder & Executive Chairman, Singita
---
The Slow Road: What do you think is the single most effective thing travellers coming to Africa for safari can do to promote/support conservation?
Luke: Choose a responsible ecotourism operator to travel with. Align yourself with a reputable, proven conservation brand with a stellar track record, where you can see the incredible projects and the positive results.  Be a responsible traveller – support community or conservation projects if they resonate with you. For example, at Singita Kruger National Park, you can visit the Singita Community Culinary School and take a cooking lesson and buy our cookbook – funds support the students. Alternatively, guests can support any of our conservation or community projects via Empowers Africa, who has partnered with Singita in order to provide a cost-effective solution to fundraising in the United States by acting as their fiscal sponsor. Any donations made here will be granted to the independent Funds & Trusts that work in partnership with Singita. Guests can leave a safari knowing they have contributed to early childhood development, anti-poaching canine units, community projects, leopard research, lion recovery and many other life-changing projects.
After the trip, travellers can also spread the word, encouraging more visitors to discover Africa, thereby supporting ecotourism companies to continue the vital work they do.
We are very excited to have a small-group trip running Fall 2021 in Rwanda that incorporates your newest property: Kwitonda Lodge. From a design perspective, we know that each lodge is built with a sensitivity to the natural landscapes and the wildlife present. How is Kwitonda different from your other properties in overall feel?
Luke: This lodge was built from scratch, so we had the opportunity to think deeply about all aspects – making it one of the most sustainable lodges in Africa. Everything we did kept this "light footprint" in mind.
We established a nursery, called Akarabo, about 12-18 months prior to opening and to date have planted 250,000 indigenous trees and shrubs as part of an ambitious reforestation plan for Volcanoes National Park. Each suite is raised above the ground, allowing groundwater runoff from the mountain to flow freely, focusing on a light footprint.
We also consulted thermal engineers to evaluate and optimize the energy performance, which rendered air conditioning unnecessary due to the installation of a mechanical ventilation system.
Local building materials (sand, aggregate, stone and slate) were used throughout and sourced from local Musanze, reducing travel distance and adding a boost to local business. Over 500 local artisans and builders were involved in the project crafting volcanic walls, impressive woven ceilings and hand-fired terracotta brickwork, ensuring an authentic translation of local culture into key elements. (Approximately 800,000 hand-made bricks were used in the construction).
Local materials include volcanic rock, local river stone, oven-fired clay bricks, handmade ceramic tiles, eucalyptus twigs and bamboo. 61% of interior design elements were sourced in Africa.
In terms of design, we anticipated that guests would spend more time in their suites compared to a traditional South African safari. Therefore, the suites are designed to be a cozy sanctuary, a contemplative space to reflect on the life-changing encounter with mountain gorillas. The weather in Rwanda also influenced the design, and the rooms had to be warm and nurturing, hence you'll find indoor and outdoor fireplaces and heated pools.
See For Yourself
Curious? Our Trip Designers love to talk about Africa. Connect with one of them to see if a custom journey might be the right fit for you.
START PLANNING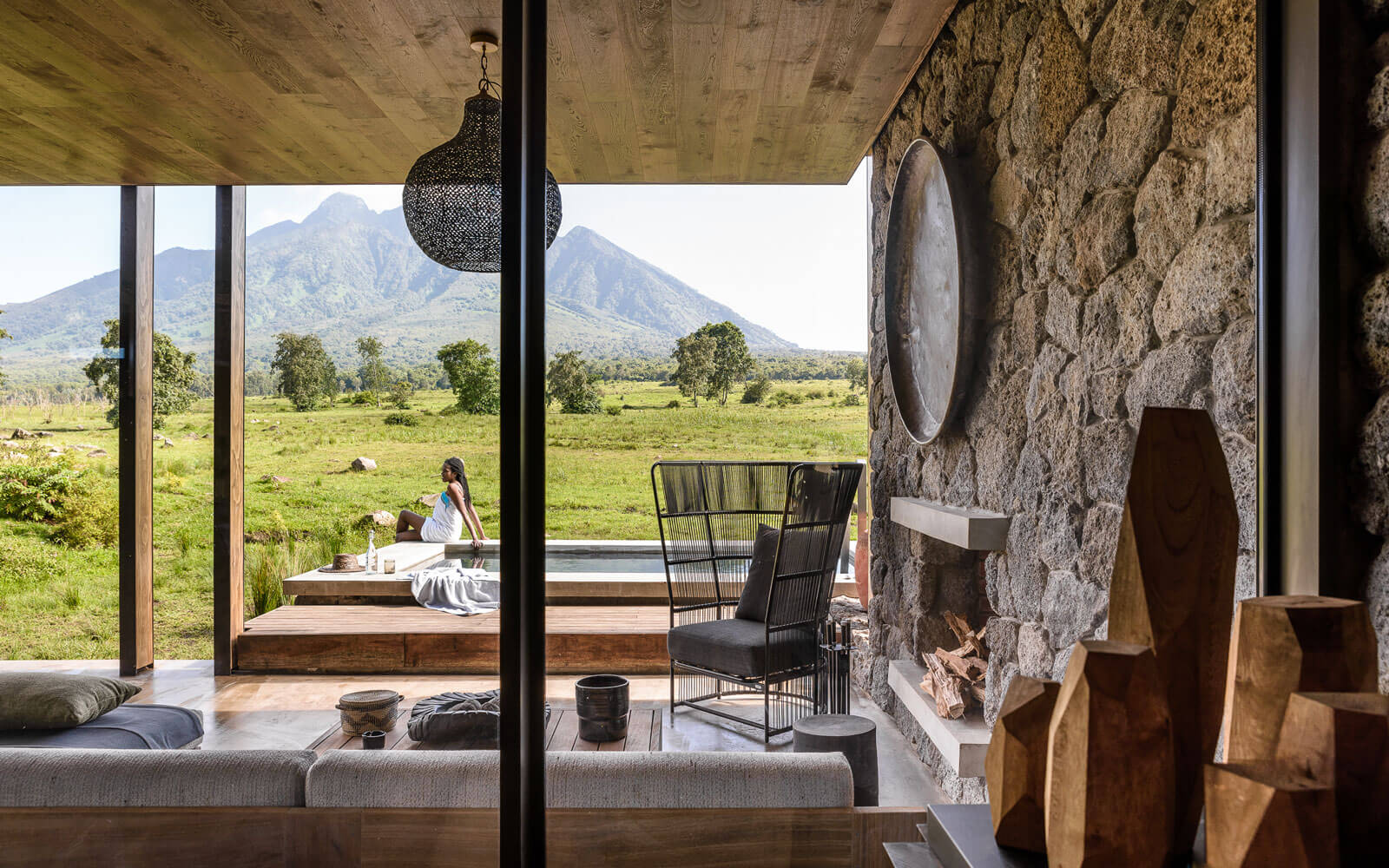 Under the direction of Cape-town based chef Liam Tomlin, and Executive Chef, Andrew Nicholson, Singita reconceptualized their approach to food—uniting all 15 properties thematically by kitchen. Part of the genesis of that decision was rooted in creating the Singita Community Culinary School– a mentorship and training program based at Singita Lebombo Lodge for members of the community with the long-term goal of ushering in a new generation of head chefs. Do you envision this project expanding into Rwanda?
Luke: We also have a community culinary school in Singita Grumeti. Another school in Rwanda is a possibility in the future, and we are already thinking about this.
The volcanic soil around Volcanoes National Park is exceptionally rich and fertile, so the quality of fruit and vegetables available has exceeded our expectations. There is a huge emphasis on food at Singita Kwitonda Lodge and Kataza House, as with other Singita lodges. The design of the kitchen overlooks the restaurant and guests can see in and interact with chefs and kitchen staff. Liam and our entire team have been excited to present Rwandan-inspired food to our guests in our farm-to-table approach.
Featuring largely vegetable-based dishes and local Rwandan favourites, the on-site herb and fruit garden supplies the lodge kitchens with an array of fresh ingredients. Other highlights of the food journey include tailor-made trekking lunchboxes, flexible mealtimes and a signature "bar-deli" which offers fresh fruit and small snacks, enabling guests to help themselves throughout the day.
Many large-scale conservation efforts can be at odds with local communities and ultimately lead to their displacement. How do you respond to that and/or try to mitigate it?
Luke: Conservation efforts are not at odds with communities.
At Singita, our 100-year purpose is to preserve and protect large areas of African wilderness for future generations. It follows that conserving the continent's precious biodiversity is our primary reason for being and is an area in which we invest significant resources. However, we recognize that wilderness and wildlife will not exist for long unless the people living near them derive benefits from their existence. We therefore support the wellbeing of our neighbouring communities directly through local employment, and indirectly through our Community Partnerships Programme, where we invest enterprise development. At the same time, we use our tourism business to support our conservation mission, we strive to minimize negative impact on these landscapes, as well as the broader environment. Our conservation model therefore incorporates the three pillars of Biodiversity, Community and Sustainability.
Sustainability – operating in an environmentally conscious way at every level of the business – is a key component of Singita's conservation success, alongside maintaining the integrity of its reserves and their ecosystems and working with local communities to ensure that they thrive because of the lodges.
The Singita model is based on an interrelated relationship between sustainability, conservation and community. We have identified three areas of focus in Rwanda
Early Childhood Development (ECD) where there is a great need
Small and medium enterprise development
Environmental Education / Reforestation of the park. We plan to expand our land to 230 acres and continue reforestation, which will ultimately lead to a larger habitat for the endangered mountain gorilla and other wildlife.
Are there any other sustainable, viable businesses – or grass-roots projects for that matter – that really interest you in Africa?
Luke: See above for our focus areas of grass-root projects.
Singita has been on a steep learning curve for the past 26 years and we've narrowed our focus on the above three areas for communities. This is mostly due to Africa's rapidly growing population – from 1.3 billion to 4.4 billion by the end of the century – which puts untold pressure on pristine wild areas. This is of grave concern to me.
Also, I believe it is crucial for people to adopt more sustainable living practices. This is another principle that runs deep within the Singita brand, and all lodges and offices follow the One Planet Living sustainability framework (a set of 10 principles that guide our decision making).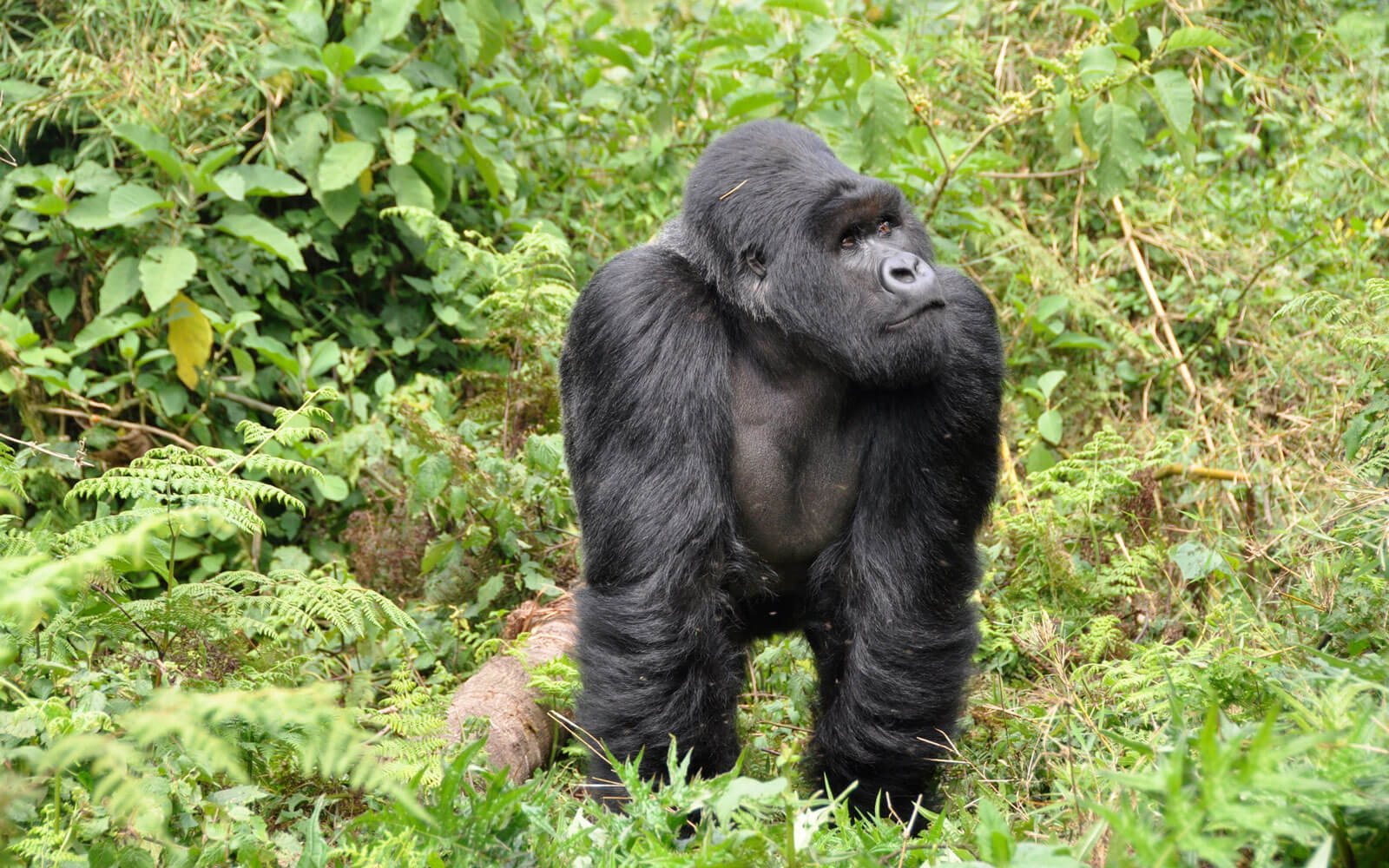 Because we are a travel company chasing a love of new things and knowledge we must ask: Where was the last place you visited that really tossed your hair back and reminded you of the power and importance of travel?
Luke: Seychelles has always intrigued me. Due to the importance of tourism on the economy, they've been careful to stick to the responsible tourism model, limiting tourist numbers. The ecology and environment take precedence. Their management of the outer islands is a great example of this.
And, finally, when can we get you and your family on a biking trip with Butterfield & Robinson?
Luke: This is high on my list to do. Ever since I spoke to a past client of yours, who could not stop raving about it. I would love to do this in Italy/France/Scandinavia.
JOIN MORE THAN 70,000 FELLOW WANDERERS