Spectacular Stays:
Singita Lebombo Lodge
A new way to safari at the Singita Lebombo Lodge
Being both relevant and authentic is not easy to nail.
How do you offer something cutting edge and place it amid a natural landscape—one that's teeming with spectacular wildlife, to boot—without appearing superficial?
One place to turn to answer this question is the Singita Lebombo Lodge because they seem to have figured it out.
Set within a private concession in South Africa's Kruger National Park, the striking design of this remote safari 'camp' is contemporary, as noted in the use of glass and the strong, visible lines. But you'll never be hard-pressed to forget that you're in deep in the wild.
This clifftop hideaway has been soaked up by its environs, embraced by thickets of giant Euphorbia trees as it watches over the confluence of the Sweni and N'wanesti Rivers below.
A member of the Singita legacy, a name that boasts a total of twelve camps across Africa, the Lebombo Lodge is ideal for guests who like to go bold—both in their travels and accommodation style.
The Property
The Lebombo Lodge has changed the image that comes to mind when you think of a safari camp.
Throughout its collection of thirteen suites, plus a private villa and a communal lodge, you won't come across Colonial-inspired decor and tribal motifs here.
Each space exudes pure sophistication: a balance of classic and modern presented in the form of rattan furnishings dressed in fresh linen, polished stone accents and structures built using metal and wood.
The colours are kept neutral and patterns at a minimum, allowing the ever-present greenery of nature that lies beyond the glass walls to be the real showpiece.
In the main lodge, you'll find a multi-tiered space with a rooftop terrace, a media room, a library, a wine studio, an espresso bar and a sizeable lap pool.
Other highlights include a spa, where you can indulge in a deep tissue massage on a deck that watches over the river and valley; a curio shop with safari wear, local crafts and handmade jewellery; and a fully-equipped gym facing the bush so that you can game-watch while you work out.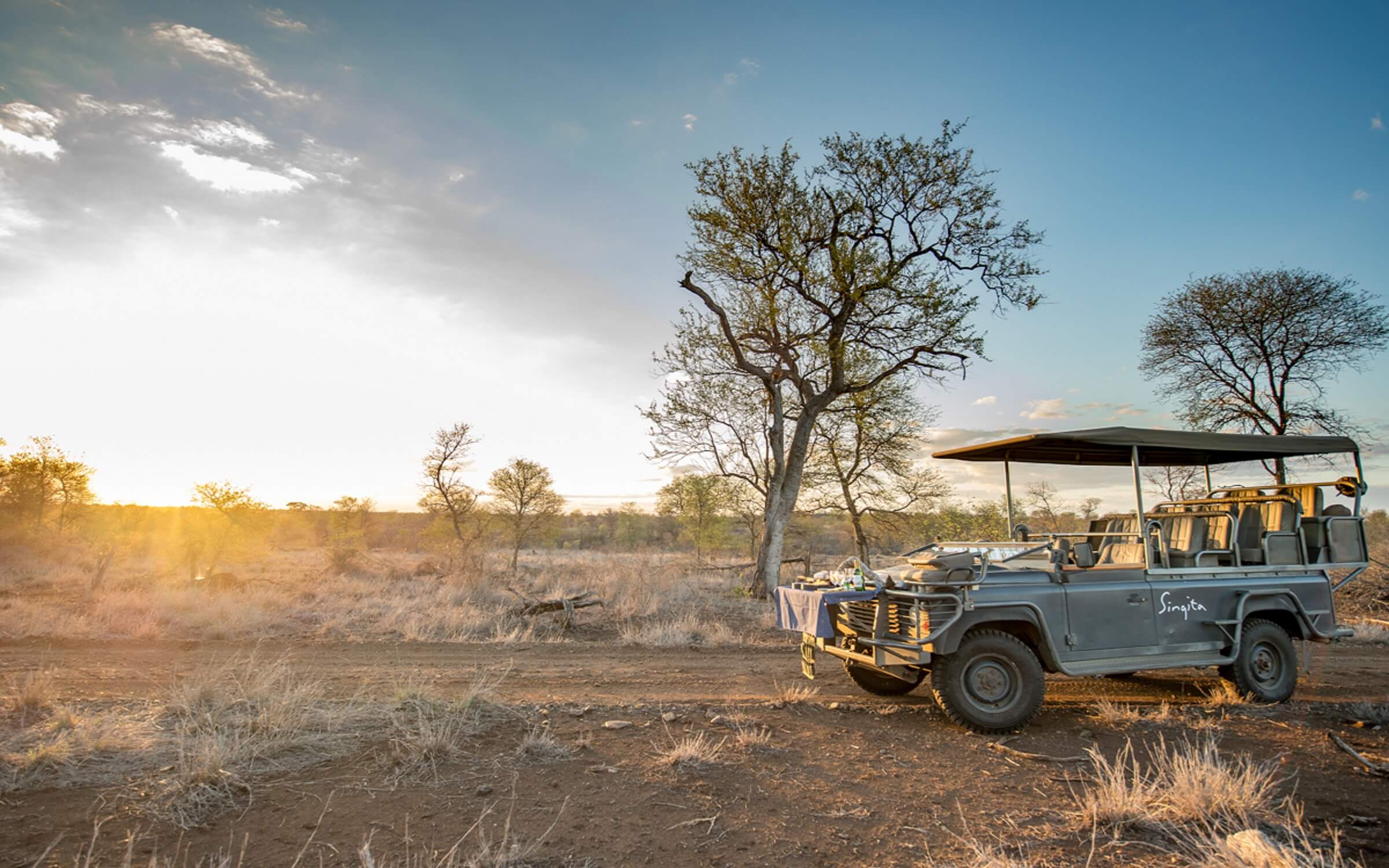 The Experience
The multitude of natural habitats within Kruger National Park's 19,485 square kilometres (7,523 square miles) give way to the various wildlife who call the land home: elephants, white and black rhinos, cheetahs and herds of buffalo, to name a few.
The star performer, however, is none other than the king of the jungle: lions reign supreme in this corner of South Africa, and spotting one of the 'Mountain Prides' tops the list of heart-racing moments at the Lebombo Lodge.
Twice daily game drives in open Land Rovers are included in your stay. To keep the experiences intimate and safe, a maximum of six guests are allowed per vehicle. Thrill-seekers may choose to embark on a walking safari, and traverse the pan by foot for a closer look at the plant life and to track down smaller game.
You'll want to catch these incredible moments on film, but if your heavy-duty camera didn't make it into your suitcase, the lodge carries specialized kits catered to wildlife photography that are available for rent.
If you're visiting with your young ones in tow, the Mini Rangers' Course is a kids' club where they can learn the ins and outs of tracking, bush survival techniques and bird-watching, and earn a certificate at the end of their 'studies.' Note that child participation on the game drives will be at your guide's discretion.
Like the rest of the Singita collection, conservation and community efforts are vital here. One of these endeavours comes in the form of a culinary school, offered by the Lebombo Lodge to students from the local communities.
Guests can learn alongside these budding chefs by participating in a hands-on cooking lesson, where you'll whip up some of the lodge's specialty dishes.
And as for the cuisine, it too is just as innovative as the property. Headed under chef Liam Tomlin, who also runs a popular Cape Town eatery called Chefs Warehouse, flavourful meals are prepared using fresh ingredients and local produce.
Cooking techniques like sous-vide and smoking reflect the lodge's contemporary edge, while meats cooked on a spit and over an open fire assert its African heritage.
Items like homemade muesli and Norwegian salmon grace the table at breakfast, lunch sees artfully plated tapas and tasting dishes, and dinner is a three-course affair paired with delightful South African wines.
The Rooms
Light spills into each of the glass-walled suites, decked out in safari-chic decor: think muted tones, netted beds, unstained wood and sisal carpets.
A sliding door opens to a private game-viewing deck, seemingly suspended over the river, complete with a daybed and bistro set.
Other in-room perks include Wi-Fi, a Nespresso machine, air conditioning, fireplaces and solar-powered plugs.
The suite's luxurious en-suite bathrooms feature deep, window-side bathtubs and separate indoor/outdoor showers.
If your group outnumbers what one unit can offer, there are two suites found lower on the hill that connect to become a villa, married by a private pool.
The villa comes with a full staff, a kitchen and it's own boma area for dining al fresco.
Before and After Your Visit
If you're looking to check off more bucket list items on your visit to Africa, wedge the Lebombo Lodge between two other spectacular stays. You can begin your trip with a visit to the Singita Ebony Lodge, the brand's flagship property in the Sabi Sand Game Reserve.
With its old-world vibe and distinct game watching, it offers a different experience where you can catch sight of the elusive leopard and dine among monkeys.
Another Singita option in the Sabi Sand is their Boulders Lodge. Here, nature is infused into every element—from the stone walls to the tree trunk support beams to the encompassing sprawl of tangled trees and free-flowing rivers.
After a few nights at the Lebombo Lodge, catch a flight to the Livingstone International Airport for a sojourn at the Royal Chundu to revel in the rush of Victoria Falls.
This vibrant camp on the banks of the Zambezi River in Zambia is just 30 km (18 mi.) upstream from the mighty cascades. It offers riverside suites with private balconies and activities include helicopter tours, canoeing, fishing and nature walks.
JOIN MORE THAN 70,000 FELLOW WANDERERS