The 6 Best Bike Routes in England
With its craggy moorlands, pretty coastal towns and seemingly endless clusters of flat, traffic-free paths, biking through England is a feast for the senses. And with no shortage of chic gastropubs and UNESCO-listed monuments to stop and savour along the way, a journey here will tempt you to traverse across the pond again and again. From poetic country roads in the Cotswolds to the legendary ascent of the Lake District's Hardknott Pass, here are our top picks the 6 best bike routes in England.
---
1. The Cotswolds
BROADWAY TOWER & THE SLAUGHTERS
A lazy bike ride through the Cotswolds is best taken in the morning, where you can start with a coffee next to the striking Broadway Tower. On a clear day, you can even witness over 13 counties and all the way to Wales, head south into the Cotswolds down quiet country lanes. The Cotswolds is the perfect destination for cyclists looking to explore a world before mechanization, with quaint market towns, golden stoned villages and some of the best gastropubs. Stopping in Guiting Power for their Post Office's famous Victoria Sponge cake, then continue downhill to The Slaughters. Chances are you've heard about the two ridiculously beautiful twin villages of Upper and Lower Slaughter.
Insider Tip: No bike ride through The Slaughters would be complete without a refreshing post-ride afternoon tea at The Slaughters Manor House!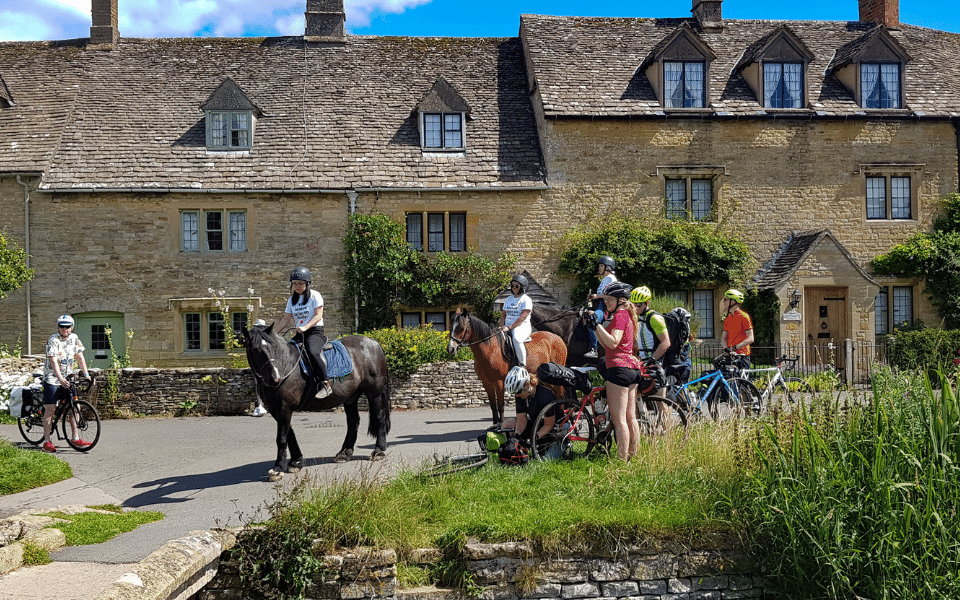 Distance: 22 km (13.6 mi.), 44 km (27.3 mi.) round trip.
Recommended Rider Level: Recreational
Best times to ride: Mid-June-August, when the lavender fields are in full bloom.
---
2. Cornwall
THE CAMEL TRAIL INTO PADSTOW & NORTH CORNWALL'S BEACHES
The Camel Trail is a beautifully flat 19-mile traffic-free route that follows the cerulean Camel River into the seaside town of Padstow. This stunning estuary is perfect for bird watching and gives sweeping views across the colourful town and sea. Enjoy a tasty meal at the famous Rick Stein Seafood restaurant for lunch and continue on to visit the golden sands of Cornwall's Northern beaches, Trevone Bay and Harlyn Bay.
Insider Tip: Finish with a refreshing cocktail or an overnight stay at the Pig, set among fields of wildflowers above Harlyn Bay.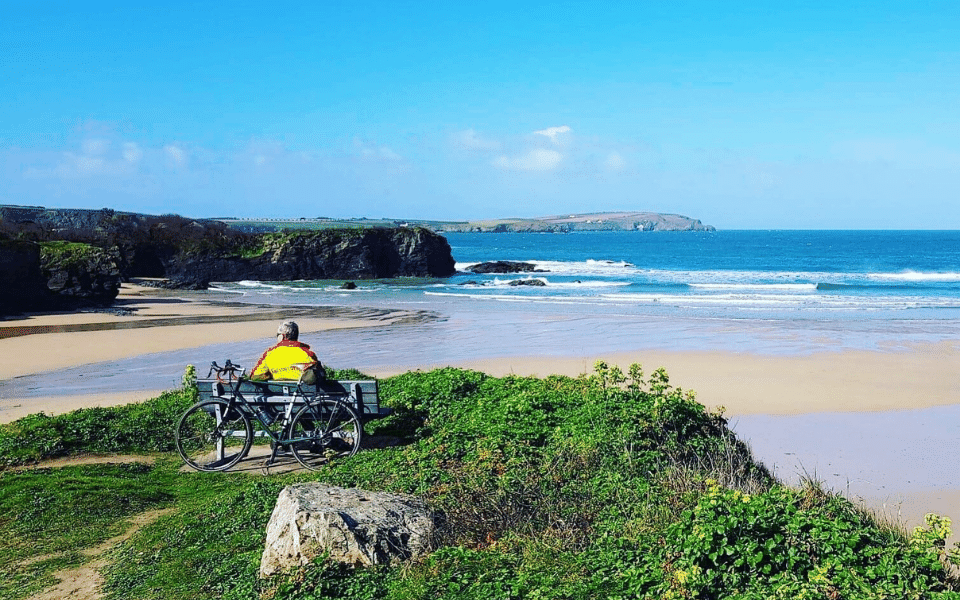 Distance: 30 km (18.6 mi.)
Recommended Rider Level: Recreational
Best times to ride: April-June or September-October. Avoid peak summer season (July-August).
---
3. Bath
BIKING THE 2,000-YEAR-OLD FOSSE WAY ALONG THE KENNET & AVON CANAL
The Fosse Way is a Roman road of mid-1st c. origin, built partly along a temporary frontier line. This route is a cyclist's dream as it's one of the straightest roads in Britain! Following it out of the Cotswolds' high rolling hills, this route drops into the Bath basin and leads you directly into the heart of this UNESCO-listed city. The best way into Bath is along its canals. Great for cycling, the Kennet and Avon Canal passes aqueducts, locks and plenty of waterside hospitality in the form of inns, gastropubs and canal boat cafés. Hopping off of the canal at the Holburne Museum, you'll find yourself in the centre of one of the prettiest towns in England, complete with cobbled streets and brilliant sandy limestone Georgian architecture.
Insider Tip: Make sure to visit the Roman Baths, a designated UNESCO World Heritage Site and the best-preserved Roman remains in the world.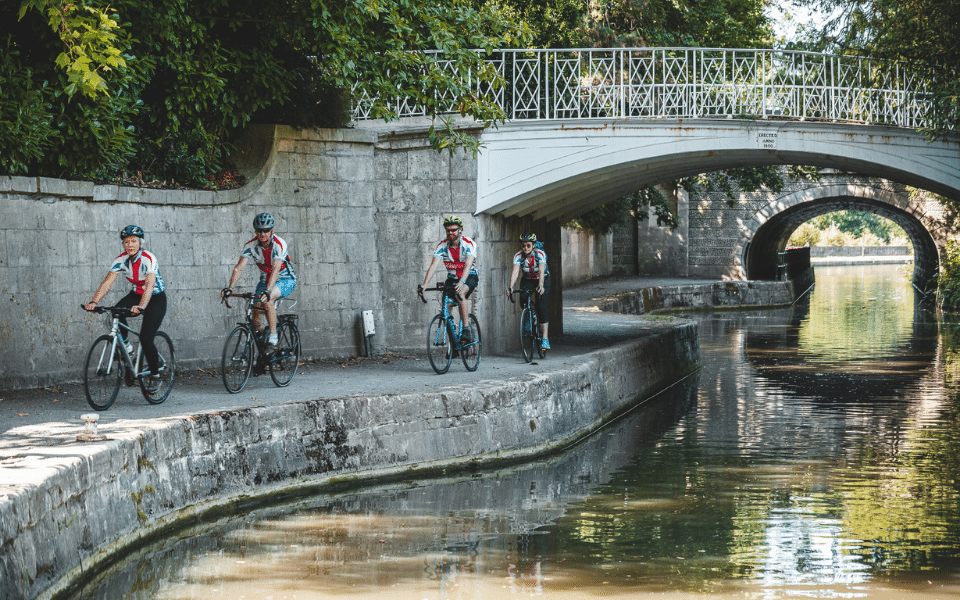 Distance: 35 km (21.7 mi.) from Tetbury and 100 km (62.1 mi.) from Moreton in Marsh (North to South Cotswolds Ride)
Recommended Rider Level: Shorter route–Recreational. Longer route–Avid
Best times to ride: April-October
---
4. Dartmoor
THE DARTMOOR WAY
The Dartmoor Way takes you through the wilds of Dartmoor National Park on a 95-mile signed circular route. You'll cycle past ponies and deer, ancient ruins, granite Tors and through the Hound of the Baskervilles territory. This challenging route winds down lanes and over heathland to link the hills to Devon's pretty thatched hamlets, villages, inns and more.
Insider Tip: Make sure to finish with a pint of locally brewed ale or a tasty Devonshire scone with jam and cream in one of Devon's many great gastropubs.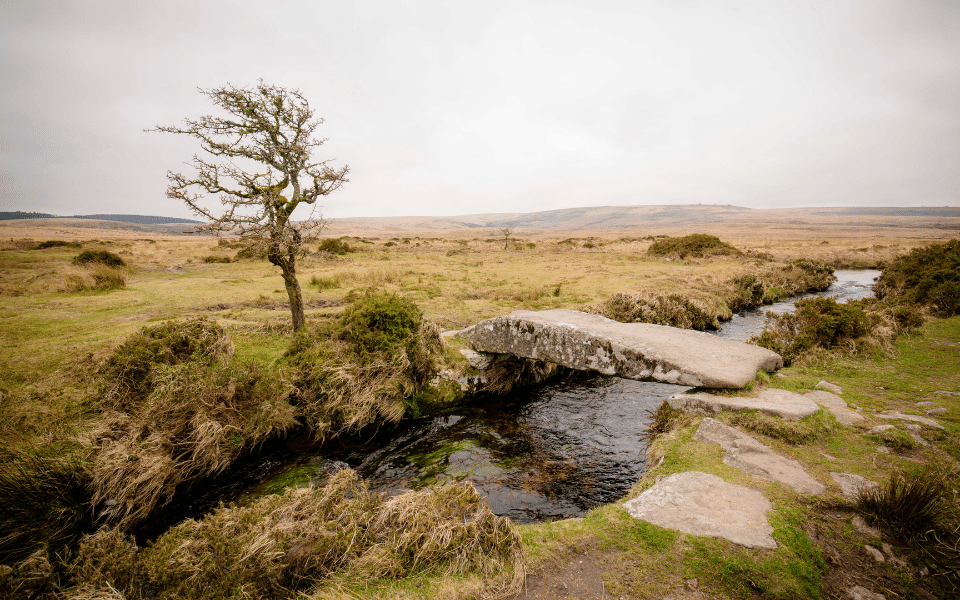 Distance: 152 km (94.4 mi.)
Recommended Rider Level: Avid/Expert, depending on the number of days taken
Best times to ride: May-September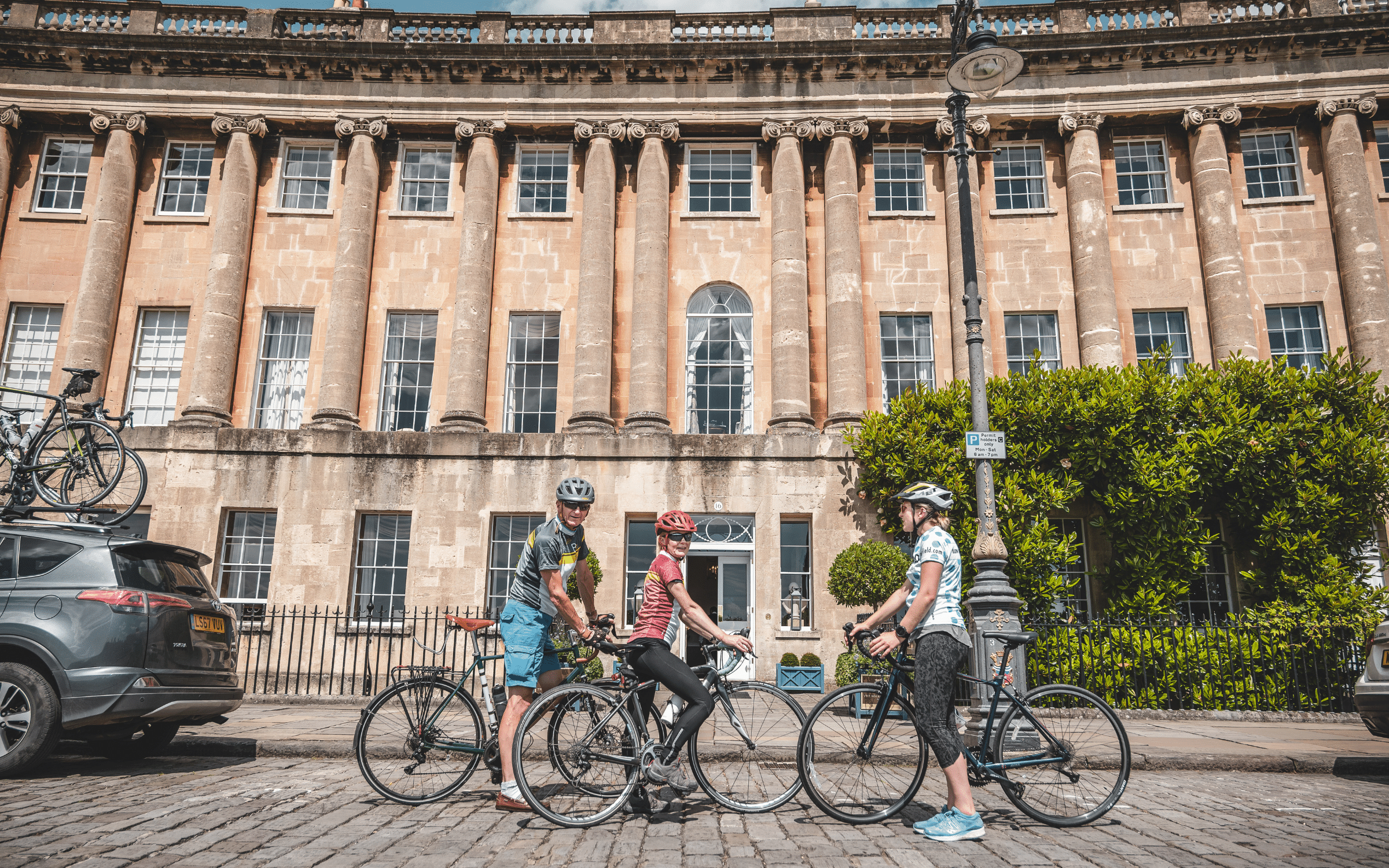 5. Devon
DEVON COAST TO COAST
From the seaside village of Ilfracombe on Devon's North Coast to the bustling city of Plymouth in the South, the Devon Coast to Coast is a 99-mile route that leads you through the heart of Dartmoor. With jaw-dropping views from viaducts, through old railway tunnels, from sandy beaches to lush green river valleys and the vast moorlands of Dartmoor, this route captures the best of Devon. Finish where the Pilgrim Fathers set off on the Mayflower with faith to carry them across the oceans 400 years ago. This ocean city boasts a lively waterfront and a fascinating maritime history.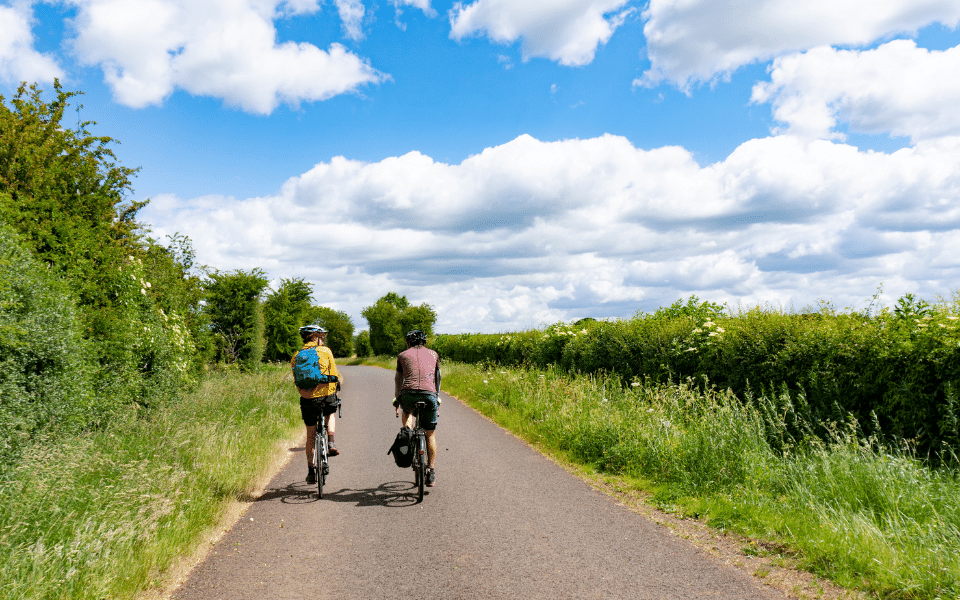 Distance: 160 km (99.4 mi.)
Recommended Rider Level: Enthusiast/Avid
Best times to ride: May-September
---
6. The Lake District
THE LAKELAND LOOP
This challenging 40-mile route is not for the faint-hearted, but you'll be rewarded with some of the most breathtaking views in England. Tracing the edges of Lake Coniston, this route doesn't stay flat for long as it leads up into the mountains and over Wrynose Pass and Hardknott Pass—names that are enough to make any cyclist sweat as gradients will hit 30% at times. Although a challenge, the sweeping views over fells and tarns make this ride a cyclist's dream. Be sure to stop in the pretty town of Coniston for lunch and a refreshing drink!
Insider Tip: Reward yourself with a post-ride stout at the Crown Inn's beer garden or at the Yewdale to savour expansive views over the verdant green valley while you sip.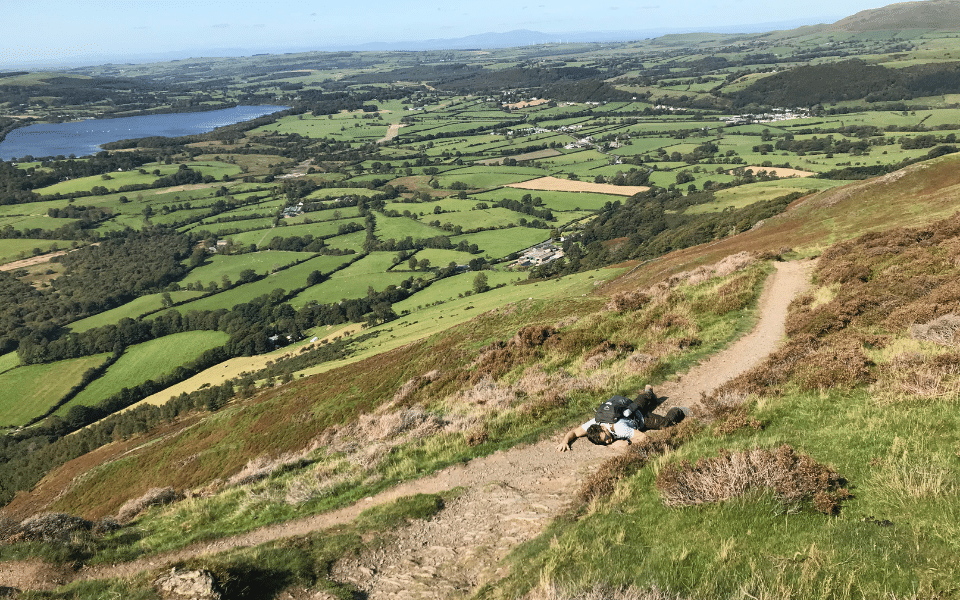 Distance: 64 km (39.7 mi.)
Recommended Rider Level: Expert
Best times to ride: April-June or September. Avoid peak summer season.
---
READY TO RIDE?
Browse our full portfolio of bike trips in England or feel free to reach out to Dane Tredway to see how he can craft the perfect bike trip in England, tailor-made your way.
JOIN MORE THAN 70,000 FELLOW WANDERERS