Our Favourite Hotels in Jerusalem
Spiritually captivating in every way imaginable, Jerusalem intertwines thousands of years worth of history with a surprising contemporary kick. Stroll through the city's downtown core to see ancient cream buildings lined up beside new-world art centres and funky cafes. Ultra-modern trolley cars roll past old-stone churches, while the best of its holy sites are tucked away in the Old City's ancient walls. And after days of unearthing its never-ending layers, you'll see why the only thing better than exploring the Walls of Jerusalem on two feet is savouring its beauty from your hotel's rooftop terrace.
Tried, tested and true, here are a few of my favourite places to stay while visiting Jerusalem.
---
I go to Jerusalem to visit the Old City—the bit within the walls. So most of my recommendations are with that priority. Staying within the walls is tricky. My best "inside the walls" experience has been at the cozy and friendly Lutheran Guesthouse—the perfect base from which to explore Jerusalem's many historic wonders.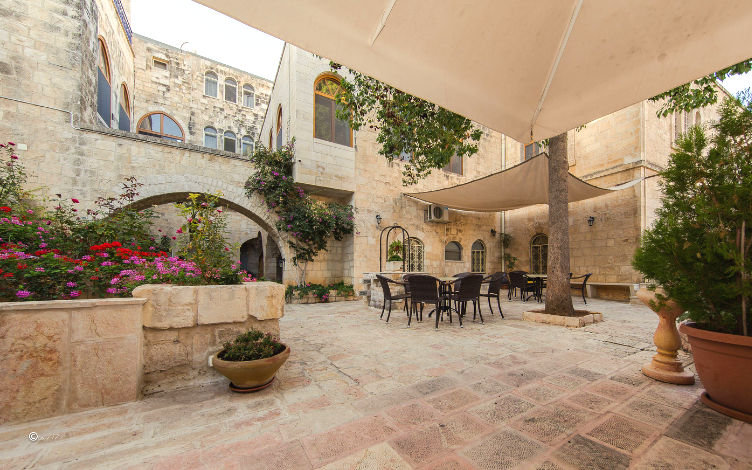 Once serving as a residential building, the Lutheran Guesthouse blends history and modern luxury right in the heart of the Old City and where the Armenian, Christian, Jewish and Muslim Quarters lie. Its roof terrace and ever-blooming garden provide the perfect retreat to sip your morning coffee over breathtaking views of the Old City, the Church of the Holy Sepulcher, and the Mount of Olives all the way to the mountains of Jordan. All 35 suites are blessed with warm hues of cream, gold and blue, and its restaurant serves up rich delicacies of Arabic and European cuisine.
---
A member of the Leading Hotels of the World, King David is universally acknowledged as the most notable hotel in all of Jerusalem. This multi-award-winning stately hotel intertwines the splendour of a bygone era with contemporary class and takes pride in treating guests as royalty (they've even hosted international leaders and celebrities!).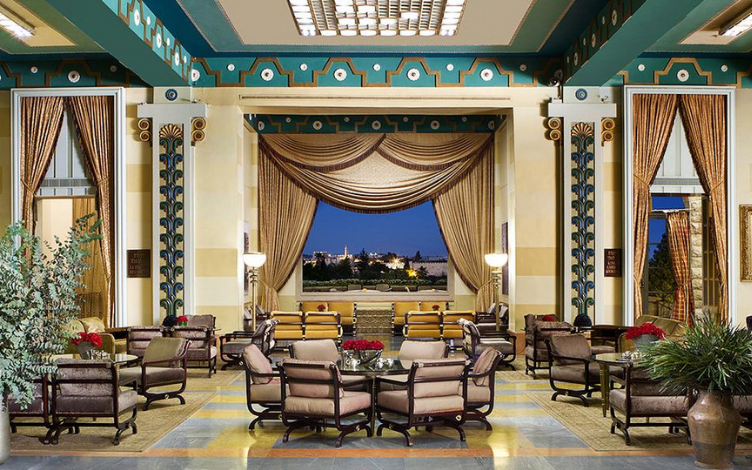 Superbly located overlooking the Old City walls and just a 15-minute walk from the Armenian, Christian, Jewish and Muslim Quarters, King David is the ultimate place to stay to experience the sights and sounds of Jerusalem—and the pool is outstanding!
---
A charming oasis nestled right in the heart of Jerusalem's city centre, a stay at The American Colony will have you roaming the same halls as Lawrence of Arabia, Winston Churchill, Bob Dylan, Uma Thurman, Richard Gere, Giorgio Armani, Miuccia Prada, Tony Blair and Mikhail Gorbachev once did, just to name a few. Each "house" in this grand hotel is charmed with its own character and beauty. The Old Wing was a former Pasha's residence with a central courtyard—the Pasha's original sitting room and bedroom, along with his four wives' rooms, now act as beautifully appointed guest suites.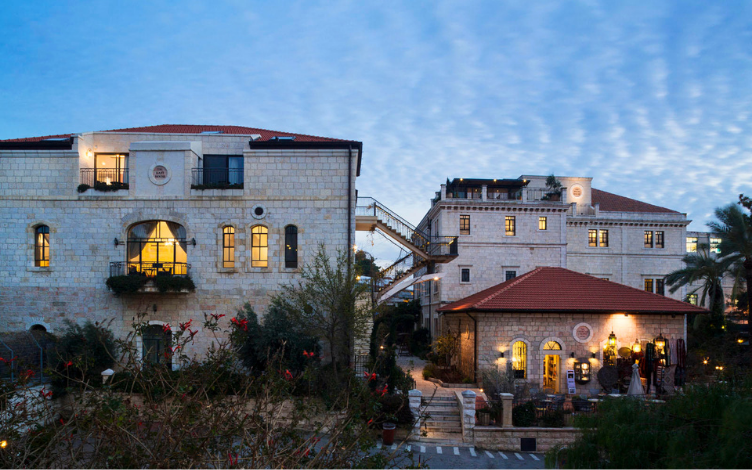 A member of the Small Luxury Hotels of the World, you can retreat under the shady serenity of an olive tree in its courtyard, sip cocktails in the Palm House garden, or lounge by the pool, surrounded by elegant Jerusalem stone and the glint of Italian Mosaic tiles. Did I mention it's just a 15-minute walk from the Damascus Gate?
---
Just a stone's throw from the Jaffa Gate entrance is The David Citadel, ensuring that you can skip the taxis and stroll to many of Jerusalem's famous sites. You'll be greeted by staff who remembers the nicknames of your grandchildren, and balcony views you'll never forget.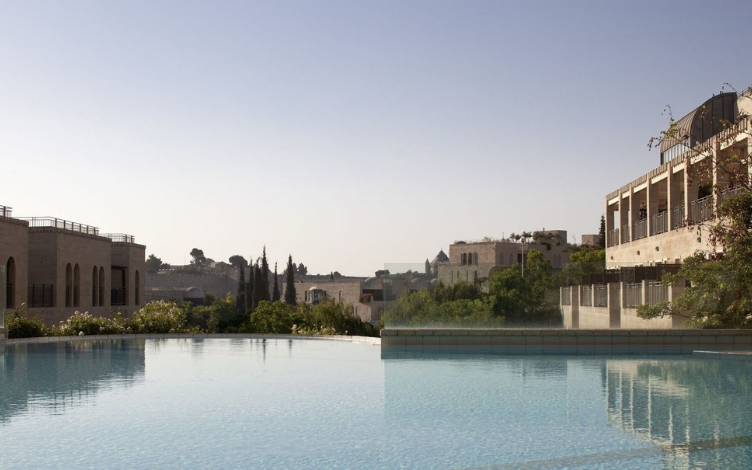 Each room in this sumptuous hotel is complete with Frette linens and Bvlgari amenities, and its Executive Chef combines the many cultures that put down roots here, from Eastern Europe to Ethiopia, which is represented at their legendary Friday dinner. Watch the sunrise over the Tower of David, take a dip in the heated swimming pool and indulge in a Deep Tissue treatment at the AKASHA Spa. In sum, it's pure pleasure.
---
With its designer lobby only a short stroll away from the Old City walls, Jaffa Gate, and the capital's newest gardens, galleries and theatres, Mamilla hotel is literally at the crossroads of Jerusalem's celebrated past and future. Each luxurious suite has been recently renovated by world-renowned Italian designer Pierro Lissoni, and is complete with the vibrant mix of silk and stone, high tech and hand-carved, and raw concrete and brushed oak.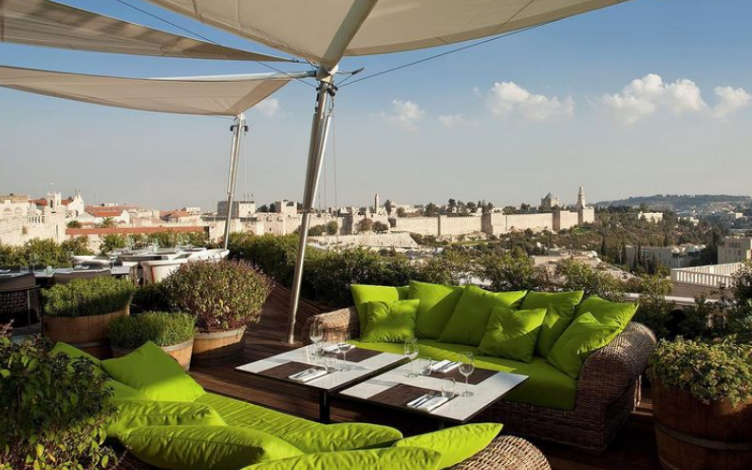 Feast on award-winning cuisine over breathtaking vistas at their famous Rooftop Outdoor Lounge & Restaurant. Sip cocktails and feel the nightlife scene come alive at their glitzy Mirror Bar. And enjoy their signature spa treatment—Akasha Magic—after a long day of exploring the nearby sites.
---
Just a 10-minute walk from Jaffa Gate and under two kilometres away from central Jerusalem, the Waldorf Astoria is a unique experience that combines history and modern luxury with pure class. Set in a grand 1920s building, every inch of this hotel is coated in a soothing white and cream colour palette, and the elegant décor is designed by Sinan Kafada. Boasting its own on-site hair and beauty salon, as well as exclusive treatments at the SPA Guerlain, you'll look as rejuvenated as you feel while enjoying tapas and stunning views on the fourth-floor rooftop garden.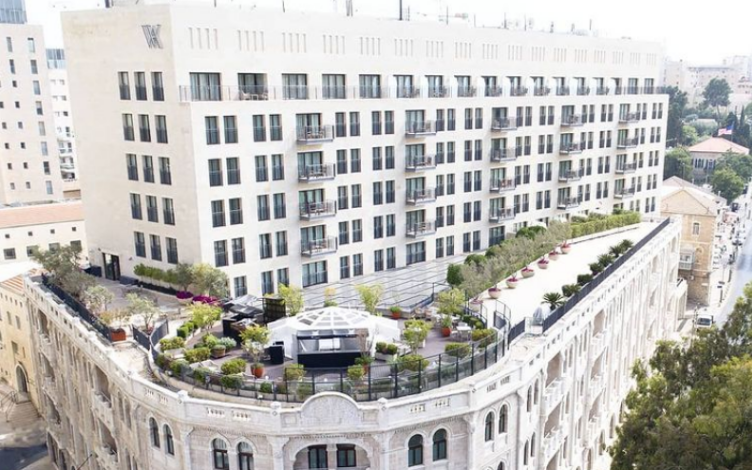 ---
This family-owned hotel has been intertwined with history since the Byzantine Period. The building sits on top of a Byzantine church and then became a house for one of Jerusalem's most affluent families, then a school, then finally a hotel. It's reasonably priced and only a 5-minute walk from the Damascas Gate.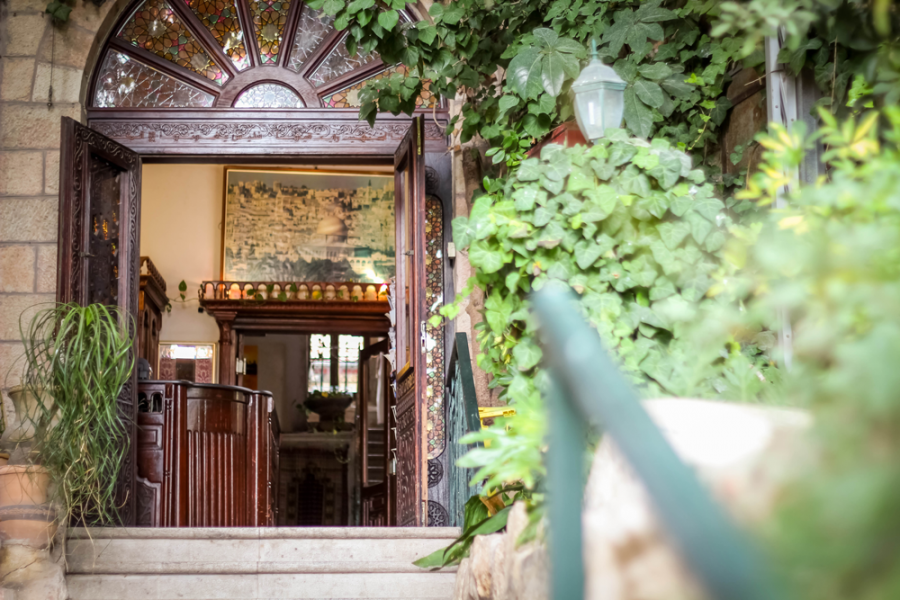 Tempted to indulge in one of Jerusalem's most extravagant accommodations for yourself? Get in touch with Nathan to see how he can craft your perfect stay.
JOIN MORE THAN 70,000 FELLOW WANDERERS