Experts + Insiders:

John Lansdell
It's a good problem for a company to have—if a somewhat strange one.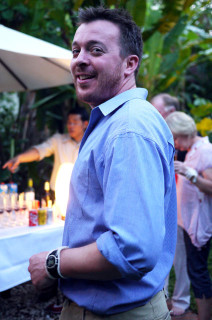 As a company, B&R tends to attract talented and passionate globetrotters, who bring expertise from all over the world. But talent and passion aren't the only traits they share. Another, it turns out, is persistence. (And potentially a touch of insanity, depending on your outlook.)
I came to this conclusion only after interviewing many of B&R's experts and asking what I thought was an innocuous question: "How'd you get started with the company?"
On more than one occasion, I got an answer similar to that of B&R Expedition Trip Planner John Lansdell.
"I moved to Toronto and began a campaign of harassment against the then Director of Operations until I was granted an interview," John admits.
I've said it before (and in all likelihood I'll have to say it again, given our track record): B&R neither endorses nor condones "a campaign of harassment" as a job-seeking strategy.
Although it should also be said that if you're as talented, passionate, hard working and well travelled as John, chances are it won't actually take much harassment.
---
Vital Stats
Years in Travel Business: 16
Years with B&R: Almost 10
Countries/Regions of Expertise: I plan all of our small group trips outside of Europe, which we call our expeditions trips. I'll talk a good talk about lots of destinations – just don't ask me about Italy!
Countries visited: Numerous full passports worth…
Countries lived in: England, France, Spain and now Canada
Trips planned: 10 years is a long time—dozens and dozens
Trips guided: Unenlightened days prior to B&R, 60. Renaissance days, 10.
Q&A with John
Everyone at B&R has their fair share of wanderlust. How did you first get bit with the travel bug?
I'm guessing that mine is genetic to a degree – I come from a family that travels far and wide! That, and a love of reading from a very young age.
What's your preferred method for immersing yourself in a country or region?
Curiosity is key, let that itinerary get hijacked.
What's the best thing that ever happened to you while travelling?  
Travelling has consistently left me wanting more, whilst providing me with endless "when I was in…" moments, which of course my friends all love.
Describe a moment, story or anecdote from the road that you will never, ever forget.
I'm 16 years old, stumbling out of an enlightening and possibly over indulgent wine tasting in Bordeaux, before hitchhiking with a friend south across the Pyrenees to the Costa Brava. No Google, no parents, no real schedule—and everything to learn.
Time for some favourites. Favourite trip you've ever taken? (I know, I know, but try to narrow it down to one!)
A research trip through Oman.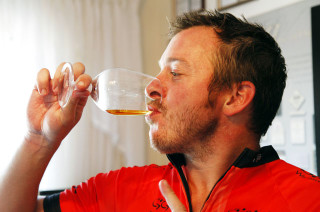 Favourite trip you've ever designed?
My honeymoon to Belize.
Favourite hotel in the world?
Currently, The Singular in Patagonia.
Favourite restaurant in the world?
St. John in London
Favourite bar/wine bar/watering hole in the world?
Lots of English pubs are very close to my heart but I do love the old pub hotels that dominate Adelaide.
What's the best meal you've ever had? (And where was it?)
The tasting menu at Chateau Cordeillan-Bages, in the Medoc, sitting alongside the vines.
Do you have a favourite bottle of wine?
No favourite per se, just something that has been carefully and well constructed, drunk in location or the presence of the wine maker is always very special.
What's one destination you haven't been to, but would love to visit?
I like the idea of Baja, just waiting until I have the time to do a family road trip.
Describe a moment, as either a guide or trip designer, that you're really proud of.
Seeing our inaugural trip to Jordan sell out and develop a waitlist. A truly remarkable country with a correspondingly special trip, which took a lot of work from a lot of people to pull together. (The route notes on occasion read like sections from the Old Testament!)
What are your three most underrated destinations?
Where I herald from of course, the South West of England. Chile – such diversity. And Tasmania looks very special as well.
Do you have a favourite George Butterfield story/moment?
Having George act as my guide through his home turf of Bermuda was a real treat.
What's your most embarrassing travel story?
Accidentally locking myself out on my patio balcony in the Kempinski Dead Sea, naked.  (The rescue team/housekeeping will confirm this.)
What trips do you have in store for yourself: where are you headed in the next 12 months?
Patagonia, New Zealand, Bali, Japan and Hawaii. Oh, and a trade show to Jamaica.  I just need to clear them with my manager. No worries, right Chris?
What items are absolute musts on your packing list?
A good piece of relevant literature, a battered old paperback that informs and tells of someone else's experiences there. And a corkscrew.