Experts + Insiders:

Brad Crockett

Brad Crockett really wanted to work for Butterfield & Robinson. And we mean really.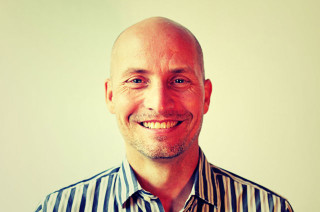 "I bugged them and bugged them until they finally hired me," he recalls. "I used to send random postcards, letters and emails to several people in the company." (Ed. Note: This worked for Brad, but The Slow Road can neither endorse nor denounce "bugging them" as a job-seeking strategy.)
His persistence paid off and the arrangement has benefited both Brad and B&R—to say nothing of our travellers. Brad started with the company as a Travel Advisor, where he cut his teeth working primarily on trips outside of Europe. Now the Director of Private Travel, Brad brings with him more than a decade of experience in the travel business and a wealth of knowledge in regions stretching from western Africa to Southeast Asia.
An avid traveller whose passport includes stamps from more than 50 countries, Brad says B&R has an obvious appeal for a globetrotter like himself. But when asked to name his favourite thing about the company, he says people trump places.
"I would have to say it's our travellers – they really give us the opportunity to design some amazing trips," he says. "They are all quite well travelled and really push us to the limits in terms of creativity."
Managing more than a dozen experienced Trip Designers and having planned more than 100 trips himself, it would be fair to say that Brad has his finger on the pulse of the world. So, any hotspots he's dying to get to?
"Myanmar," he says. "I need to see the temples in Bagan and want to get there before it changes too much."
Vital Stats:
Years in Travel Business:
15
Years with B&R:
About 4 total, spread out over two stints
Countries/Regions of Expertise:
Southern, Eastern, Western and Northern Africa, Vietnam/Thailand/Cambodia, India, Argentina, Chile, Greece, Turkey, Baltics
Countries visited:
Argentina, Austria, Barbados, Belgium, Benin, Bolivia, Botswana, Cambodia, Cameroon, Chile, Costa Rica, Cuba, Cyprus, Egypt, Estonia, France, Gabon, Germany, Ghana, Greece, Hungary, India, Israel, Italy, Jordan, Kenya, Latvia, Liechtenstein, Lithuania, Madagascar, Mali, Morocco, Namibia, Netherlands, Peru, Poland, Portugal, Romania, Russia, Senegal, South Africa, Spain, Swaziland, Switzerland, Tanzania, Thailand, Togo, Tunisia, Turkey, UK, US, Vietnam, Zambia, Zimbabwe
Trips planned: 
More than 100
Q&A with Brad:
Favourite hotel in the world?
Singita Lebombo – Rock Star Safari.
Favourite restaurant in the world?
Any steakhouse in Buenos Aries.
Favourite bar/wine bar/watering hole in the world?
My deck in the summer.
How'd you first get bit with the travel bug?
I had travelled a lot but when I was backpacking through Europe at 21, I headed south and ended up in Tahrir Square in Cairo – it was the first place I had ever experienced where I couldn't read any signs, nor could I understand a word anyone said. Prior to that, I had only experienced Europe, where I could understand a little. It's my favourite travel moment still to this day.
What's the best meal you've ever had? (And where was it?)  
Street noodles in Bangkok or ceviche in Peru.
Favourite bottle of wine?
The one closest to me.
Favourite George Butterfield moment?
Watching George's face as he holds his annual charity wine auction. Two of his favourite things: wine and helping others.
What's the craziest thing you've seen or done while on a trip?
Too many to mention.
JOIN MORE THAN 70,000 FELLOW WANDERERS